Wanna kick off your Monday with this ridiculously delicious beef bowl?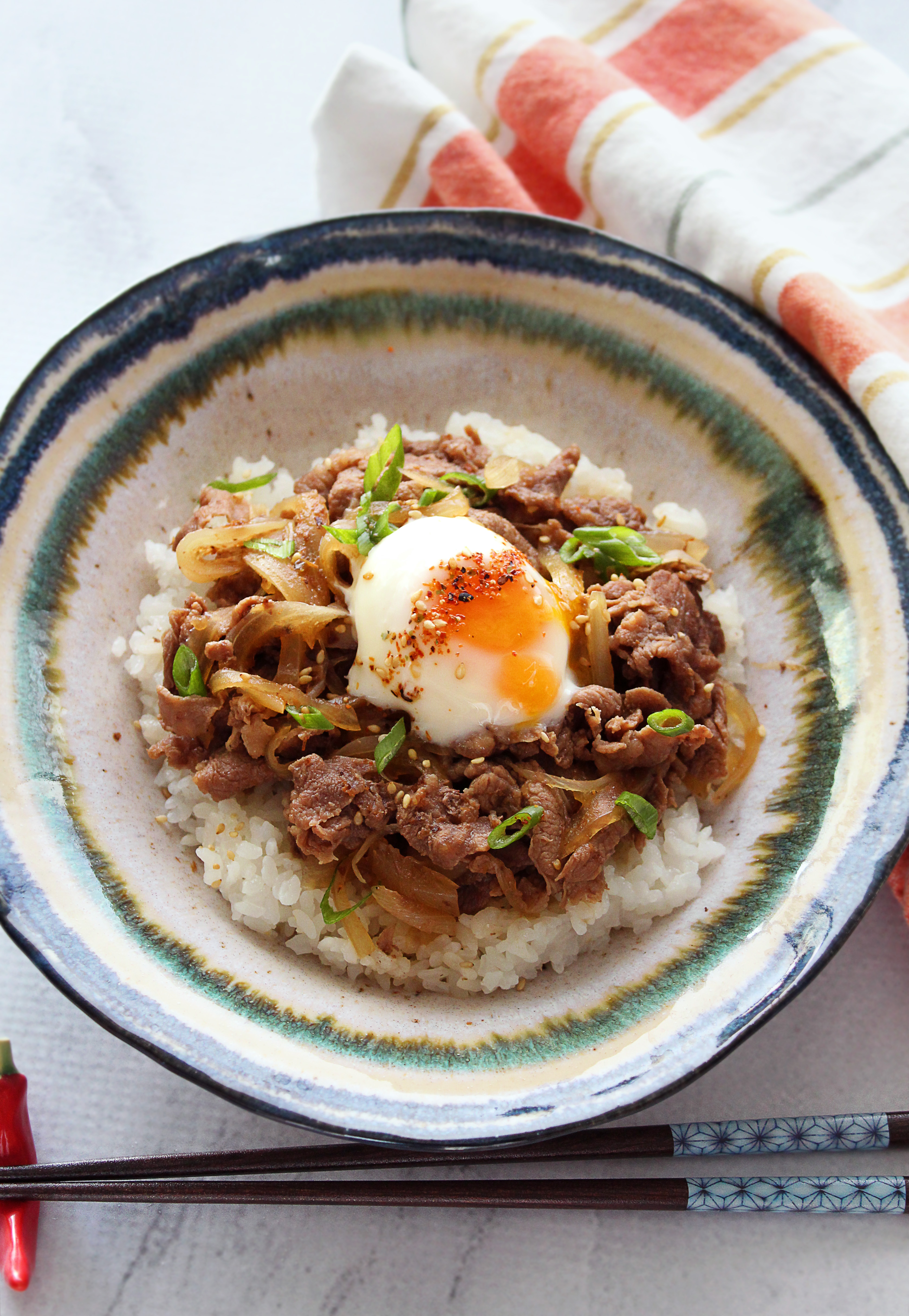 All my meat lover friends who do not have time to simmer meat for 5 hours while sipping on Cabernet Sauvignon, I got you the perfect beef recipe for you! Okay, once a while, it is fun to go nuts on preparing a massive, elaborate meal, but who has time to do that Monday night, right? So, we are making a copycat Yoshinoya Gyudon beef bowl.
Even if you've never eaten at Yoshinoya, you probably have heard the name or passed in front of this orange-color fast food restaurant if you live in California like myself. Yoshinoya is known for gyudon aka a beef bowl. This chain was originally started in Japan and became popular in the U.S. and other parts of the world.
So what's Gyudon?
Gyudon is a bed of steamed rice topped with thinly sliced beef and onion, simmered in dashi broth. Gyu means beef, and don (or donburi) refers to a rice bowl usually topped with something, in this case beef. Just like McDonalds or Starbucks, Yoshinoya modifies its menu and tastes by regions. I am not sure what exactly they do differently, but I like the taste of Yoshinoya gyudon in Japan better than one in the U.S.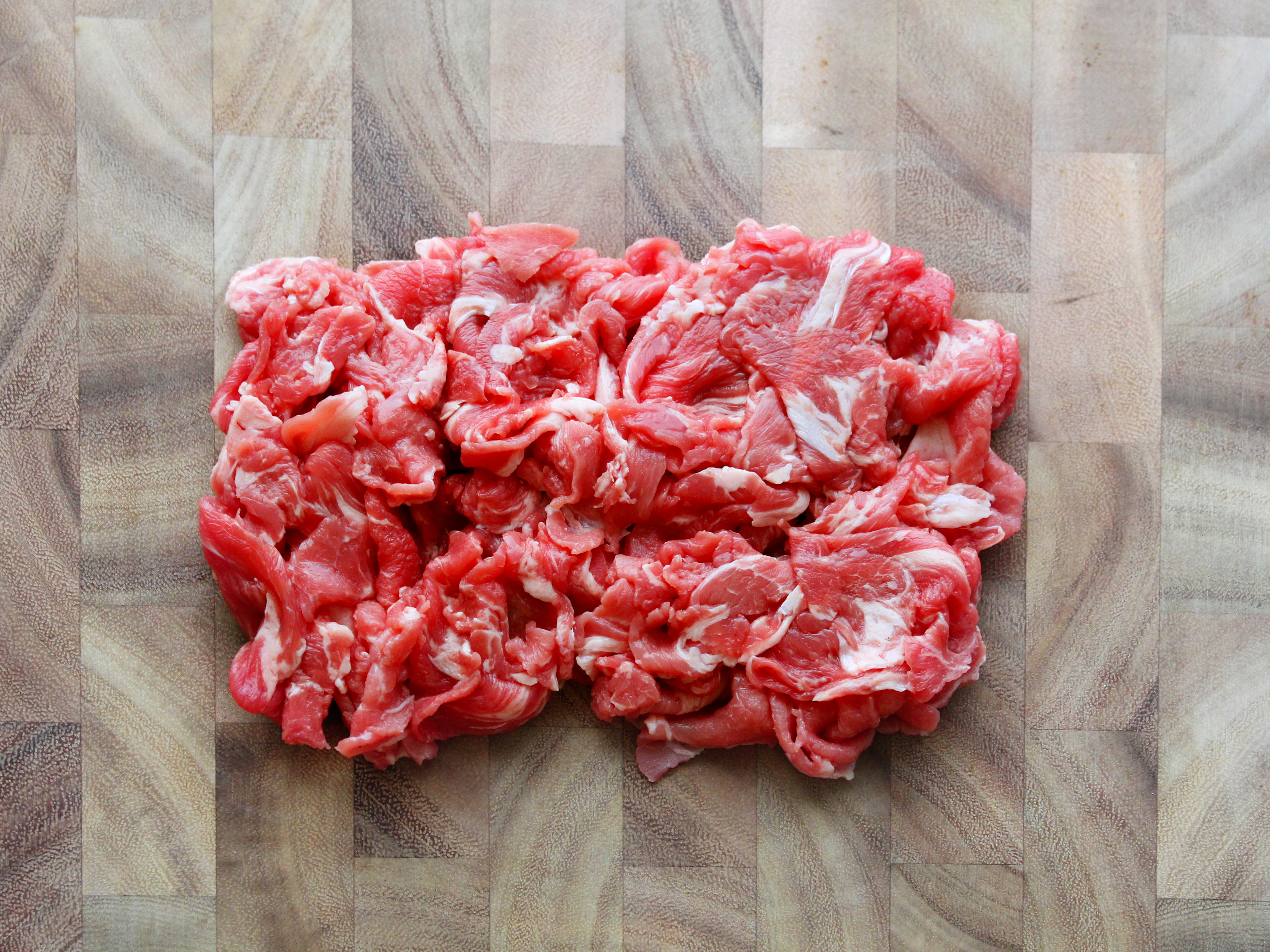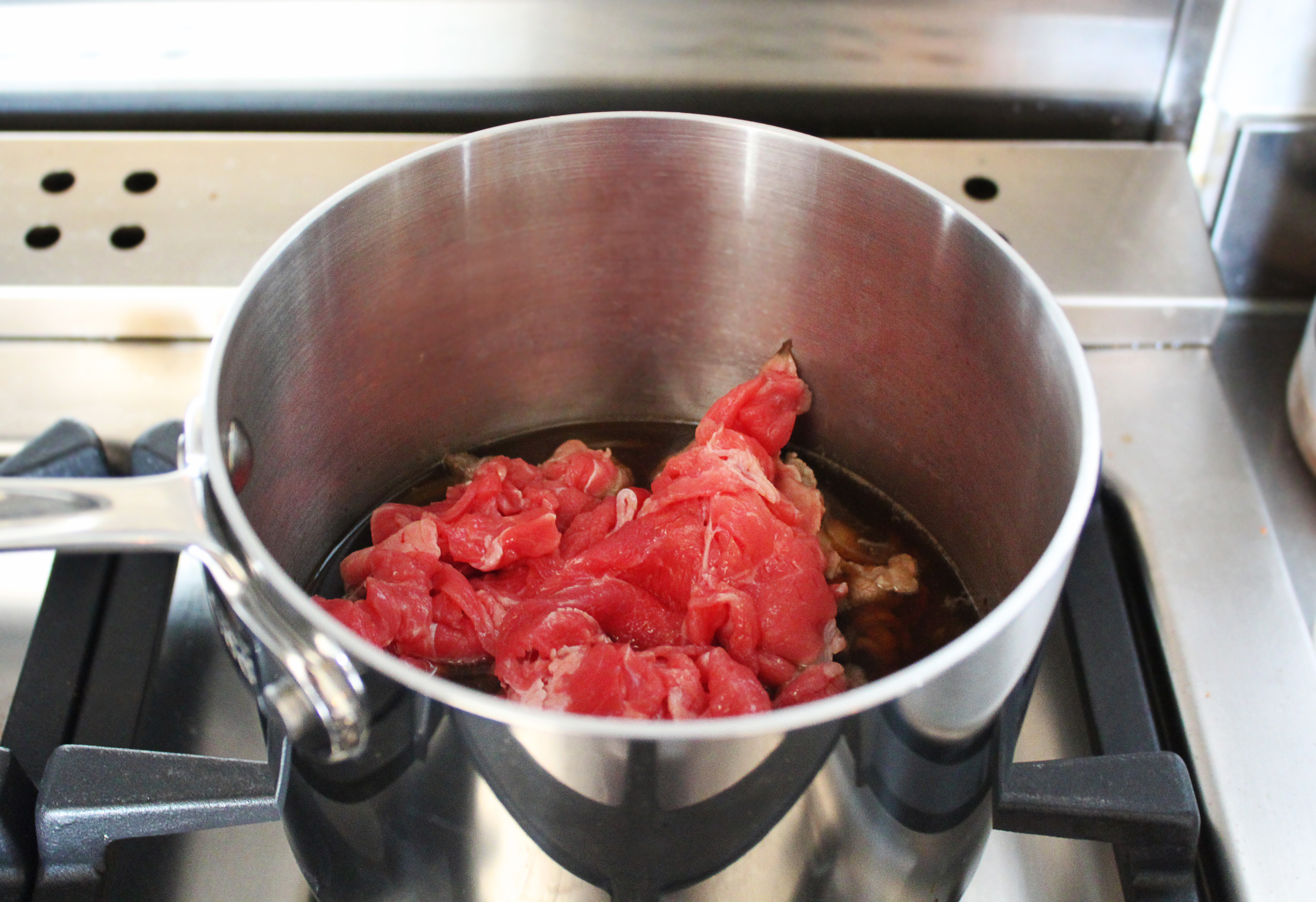 Quick warning: this copy-cat Yoshinoya gyudon bowl may taste better than the original!!
Gyudon is a popular lunch choice as it is as cheap as $5 per bowl, quick and filling. Besides Yoshinoya, there are a several gyudon chain restaurants in Japan, competing with burgers and other fast food lunch options for hungry students and professionals.
Although it is widely popular to eat out gyudon for lunch, it is also enjoyed at home as well. Gyudon takes only 15 minutes, is incredibly easy to prepare and of course delicious. What more could you want for a weekday meal?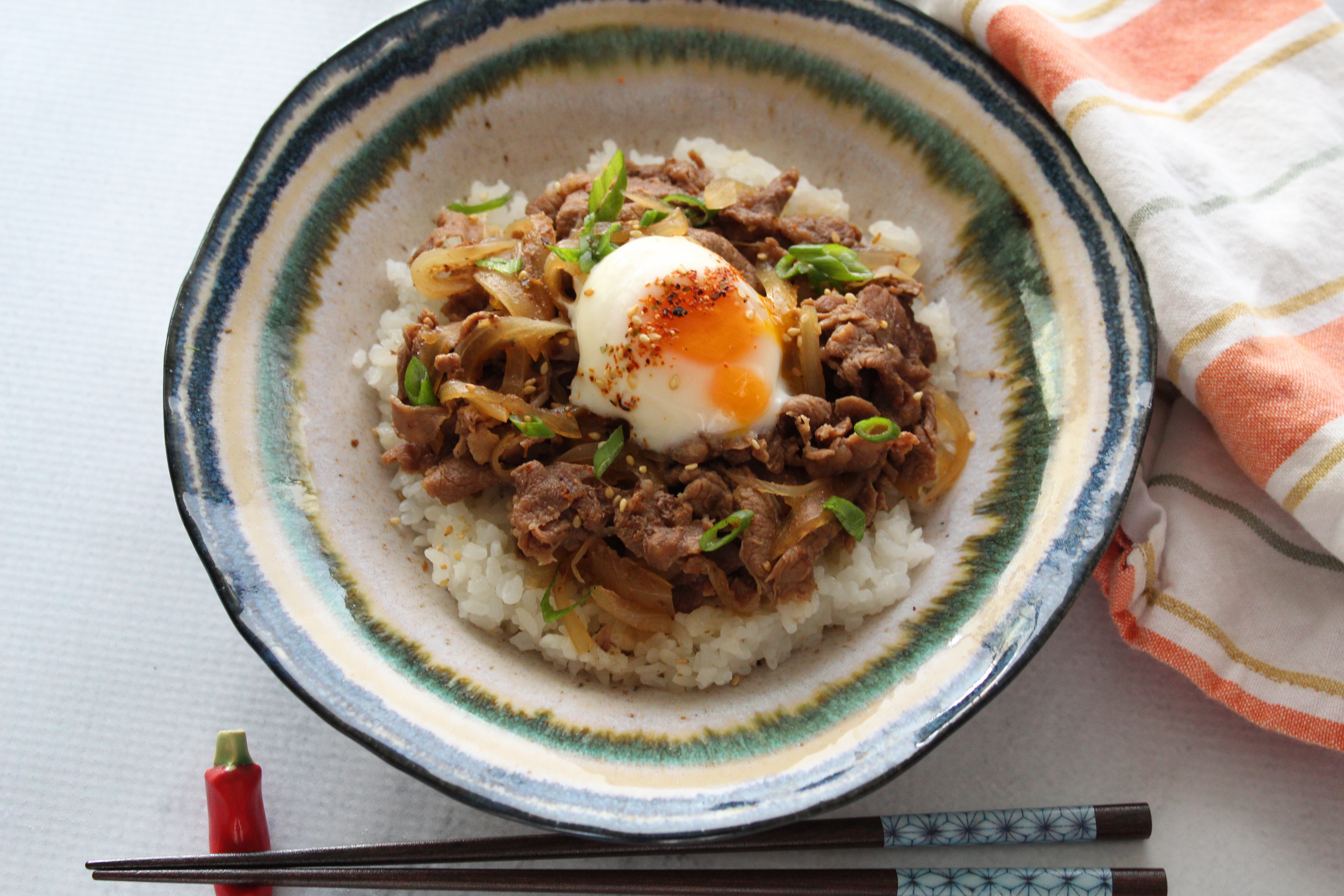 Sensory Signals – Imagine You are Eating This Right Now
Simmered beef is mildly sweet and savory. Beef is soft, and onion melts in your mouth. You can smell and taste ginger as you bite into a dish. The aroma of ginger gives a nice contrast and depth to the soft, sweet beef. The bed of steamed rice soaked all the flavors from the beef and are softened up. The juiced-up rice is so good, if it is not better than the beef itself!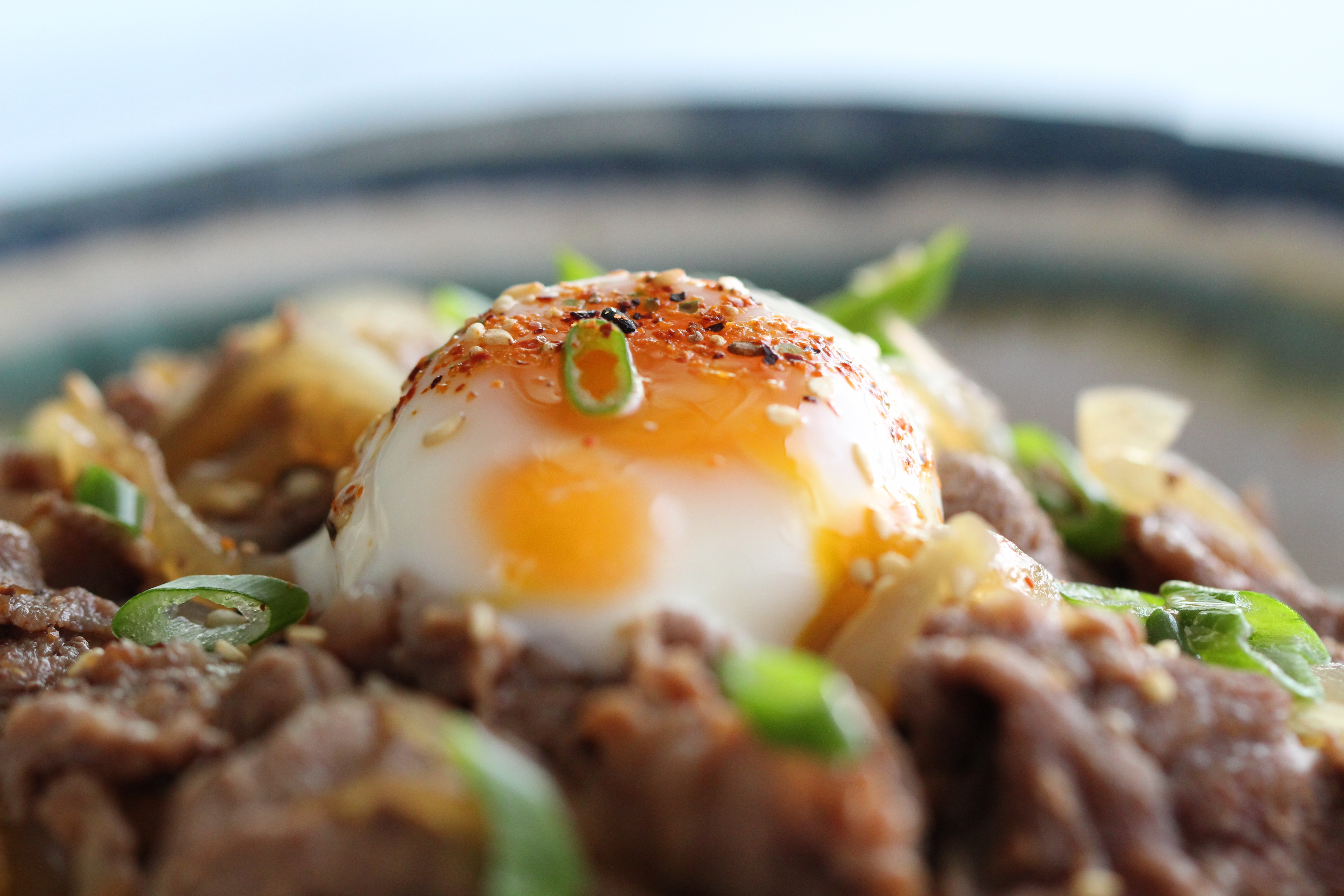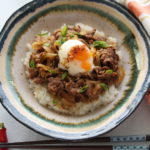 Yoshinoya Gyudon Beef Bowl
You only got 20 minutes? No problem! This easy, hearty beef bowl will not let you down. The best part of the dish is the rice that soaked up all the flavors from the beef.
Course:
GF-option, Main Course, Rice
Ingredients
3/4

lbs

thinly sliced beef

see notes below

1

onion, thinly sliced

1

cup

dashi broth

see notes below

3

tbsp

soy sauce

2

tbsp

sake

1'1/2

tbsp

sugar

1/4

tsp

salt

1/2

tbsp

graded ginger
For Serving
3/4

cups

cooked rice

white sesame

2

onsen tamago (porched eggs)
Instructions
In a medium pan, pour dashi broth and add sliced onion. Cook the onion over medium heat until slightly softened. About 5 minutes.

Add sake, sugar, soy sauce, salt, and beef and stir. Place a lid and cook over low-medium heat for 10 minutes.

Add graded ginger and cook for another 2 minutes.

Serve the beef over a bed of steamed rice. Enjoy!
Recipe Notes
The paper-thin sliced beef is hallmark of gyudon and many other Japanese dishes. You can find it at Japanese, Korean or Chinese grocery stores. Or you can slice rib-eye or chuck (beef that is not too lean) across the grain, using a sharp knife. It makes it easier if you freeze the beef for 1-2 hours before slicing.
<<GF alert!>> To make this dish gluten free, you can use gluten-free soy sauce. 
What is dashi? Dashi is Japanese sea-based broth. You could make dashi at home, but the dashi powder like this one from Amazon makes it super easy. All you need to do is dissolve the powder in water in accordance with an instruction on package. To learn more about dashi, check out my 10 pantry essential page. 
Did you make this? Share your  Yoshinoya guidon beef bowl on Instagram and tag with #HungryRis!
Let me know if you have any questions and comments about the recipe!