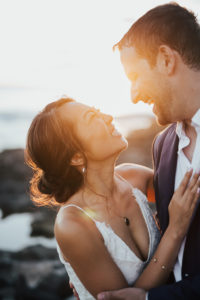 Hi and welcome to Hungry Ris where you can find easy and yummy Japanese recipes with a sprinkle of other fun creations! The chances are you already eat Japanese food at restaurants a couple times a month if not more and love it, so why are you not cooking Japanese food at home? You are probably cooking American, Italian, Mexican, and all other sorts of cuisines at home. So why not Japanese? We need to change this!
I am Arisa aka Hungry (A)Ris(a). Why is my name Hungry Ris? I love food…everything about food! Food crates a circle of love, brings smiles, and deepens memories. And simply, a kitchen is my playground and meditation pot where I feel the most comfortable and happy. As soon as I am in my kitchen, a silent music starts playing in my head!
Lucky me! My mom is the best home cook on the planet. She cooked (and cooks) from authentic Japanese food to Chinese food to French-ish food, using seasonal and wholesome ingredients with lots of L.O.V.E. Before I could speak, I knew what good food means and developed a passion for food. (I managed to develop my first tooth at 3 months so I could start eating delicious food when all my fellow babies are just chugging milk!) Now you are probably thinking "Oh, this is a Japanese lady doing a Japanese cooking thing.". Yes, you are correct, but there is a little journey behind!
I moved from Japan to San Diego about a year after I graduated from high school. San Diego introduced me to Mexican food, and I quickly fell in love with the guacamole goodness. First it was great, but I soon developed bad eating habits as I stopped eating home-cooked meals. My typical daily diet included, a slice of a coffee crumble cake with a bottle of Starbucks vanilla frappuccino for breakfast, followed by a huge California burrito (carne asada burrito stuffed with French fries) for lunch, followed by the Panda Express dinner. To put icing on the cake, the Panda Express restaurant near my college had a Krispy Kreme store across the street: while my friends and I were eating orange chicken at the restaurant, we waited the "Hot Now" sign at Krispy Kreme to turn on because it was a sign for a free donut give away (I do not think they give away free donuts to adults anymore!). So we quickly finished up a dinner and drove to Krispy Kreme for a free donut and one more for home, and this became our weekend routine. And let's not forget all the drinking.
Fast forward ten years, I started cooking more and eating more balanced food, but my true turning point for my eating habit was my wedding. My now-husband, Andrew, and I met about two and half years ago and fell in love quickly (just like I did with Mexican food)! We got engaged in November 2016, which is when our wedding planning and so-called "wedding diet" began. At the start of my new diet, I basically tried to eat chicken and broccoli. This was a disaster. This left me so unsatisfied. After this initial experience, I started craving authentic Japanese food really badly for the first time since I moved to the U.S. For the past ten+ years, authentic Japanese food wasn't really present in my diet. I always went to sushi restaurants and cooked Japanese food here and there, but now California rolls and corn-syrupy teriyaki chicken were not cutting it! After ten years away from home, I was desperately craving the real Japanese food my mom cooked for me when I was little. So, I went back to my kitchen and started cooking real Japanese food. Andrew and I lost the extra weight that we were not supposed to carry around while really enjoying what we were eating.
I am not here to argue Japanese food is an answer to all your diet needs. I know I am biased! But there are a couple reasons why Japanese food is hella awesome!
You eat with your eyes. The Japanese dishes are often presented in beautiful small plates and bowls.
You eat the seasons. The seasonal vegetables and protein are more flavorful and nutritious.
It is usually a tapas/family style so you get to eat a variety of dishes, instead of one large plate.
There is something for everybody! There are so many vegetarian and Pescetarian dishes, and lots of other diet friendly dishes.(Plus, for gluten-free peeps, I will try to note ingredients swaps to make my recipe GF when I can!)
At the end, all these facts aside, Japanese food is satisfying and simply delicious! Even compared to when I moved to San Diego from Japan, Japanese food has became accessible to many more places in the U.S., and those restaurants offer more variety and more authentic choices. But no restaurants beat homemade dishes. Period. Cooking Japanese food is actually way easier than you think. This is because traditional Japanese food takes a minimalistic approach, embracing the natural flavors of vegetables and fish have to offer.
I love food and cooking more than ever before since I re-discovered a joy in eating Japanese food and sharing the dishes with the people I love. So this HR site is my happy place and creative outlet. My hope is to tickle your taste buds and extend love for Japanese cooking to you by sharing the recipes on this site. Xoxox