Happy MLK day to friends in the U.S.! Do you have a fun plan for the long weekend? Or taking a break from holiday traveling and relaxing at home? We are spending the weekend in Hawaii where rice is served with anything and everything! AKA my heaven!!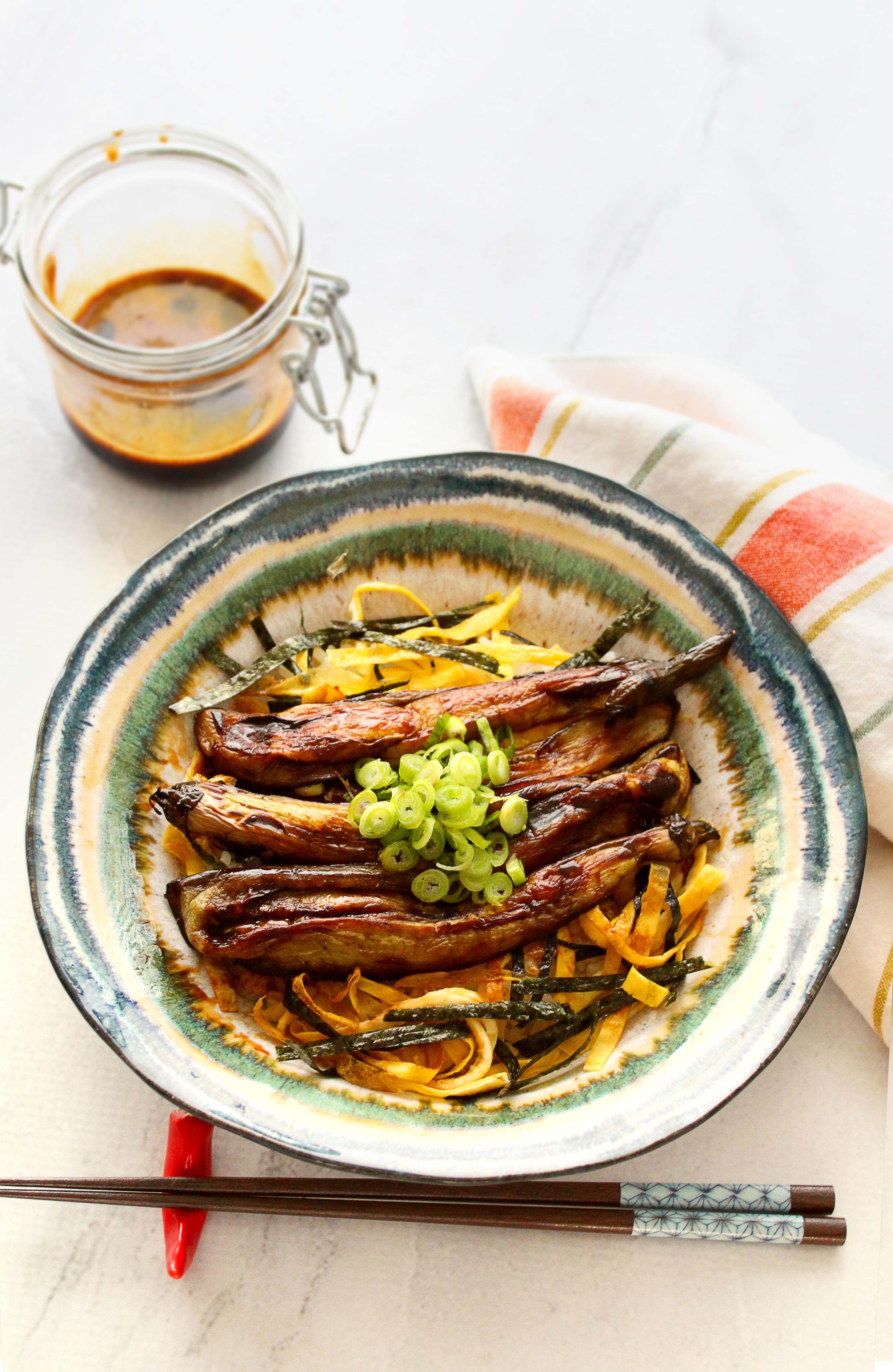 Rice is so fundamental to Japanese food that rice is called gohan which also means meals in Japanese. In traditional Japanese food setting, rice is served every single meal, and we have so many rice dishes from rice ball (onigiri) to omurice, fried omelet rice, to eel rice bowl (unagi don). As you could guess from the name, an eel rice bowl is a bed of rice topped with cooked eel.
Growing up, I loved eel rice bowl…more precisely, I loved the eel sauce soaked-up rice. It is sweet, luscious, and makes the rice so scary-good. As I got a couple requests from my vegetarian friends, I decided to make an eel rice bowl without eel…instead with eggplants! Just like mushroom, cooked eggplant has a juicy meaty texture which makes eggplant the perfect substitute for eel.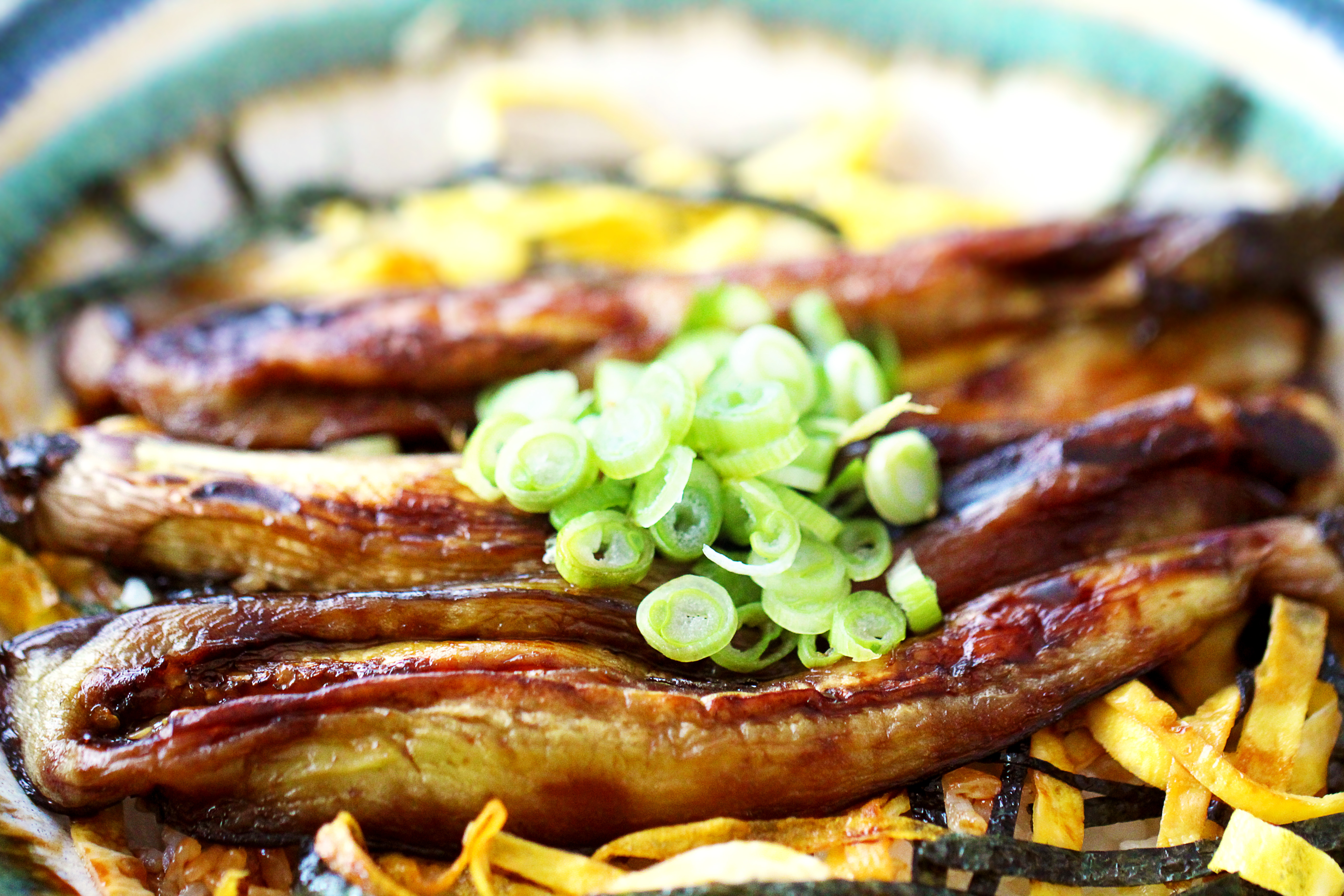 To be fair, eel is delicious. But finding quality fileted, pre-cooked eel (which is readily available at grocery stores in Japan) is challenging in the U.S. So using eggplant makes the dish not only vegetarian-friendly but also a low-maintenance dish to make on weekdays.
Okay, here is what you need for homemade eel sauce.
Soy sauce
Mirin
Sake
Sugar
That's it. Basically, everything is from my 10 Japanese pantry essentials list! The combination of soy sauce, mirin, and sake makes the classic sweet-and-savory Japanese flavor.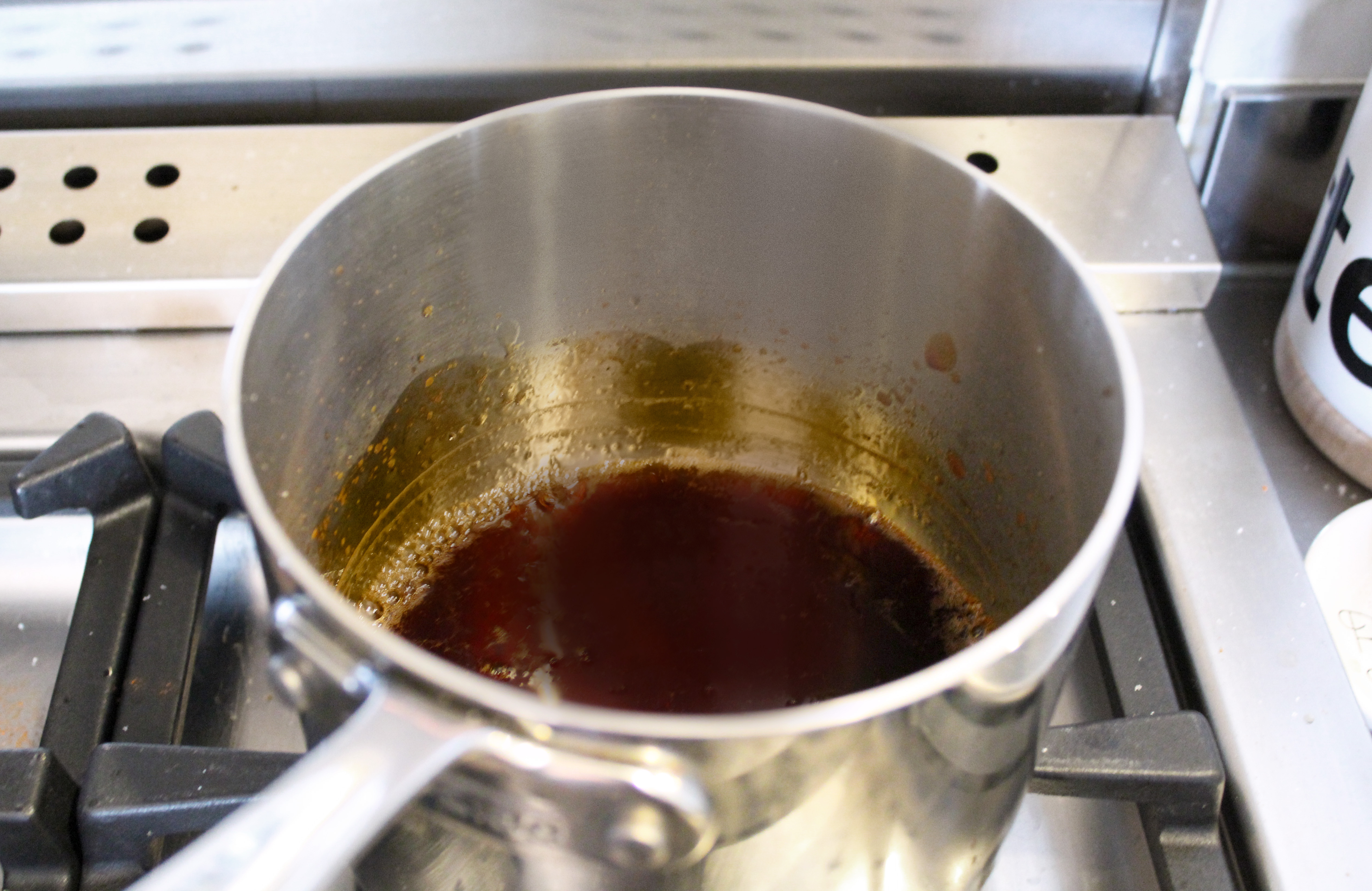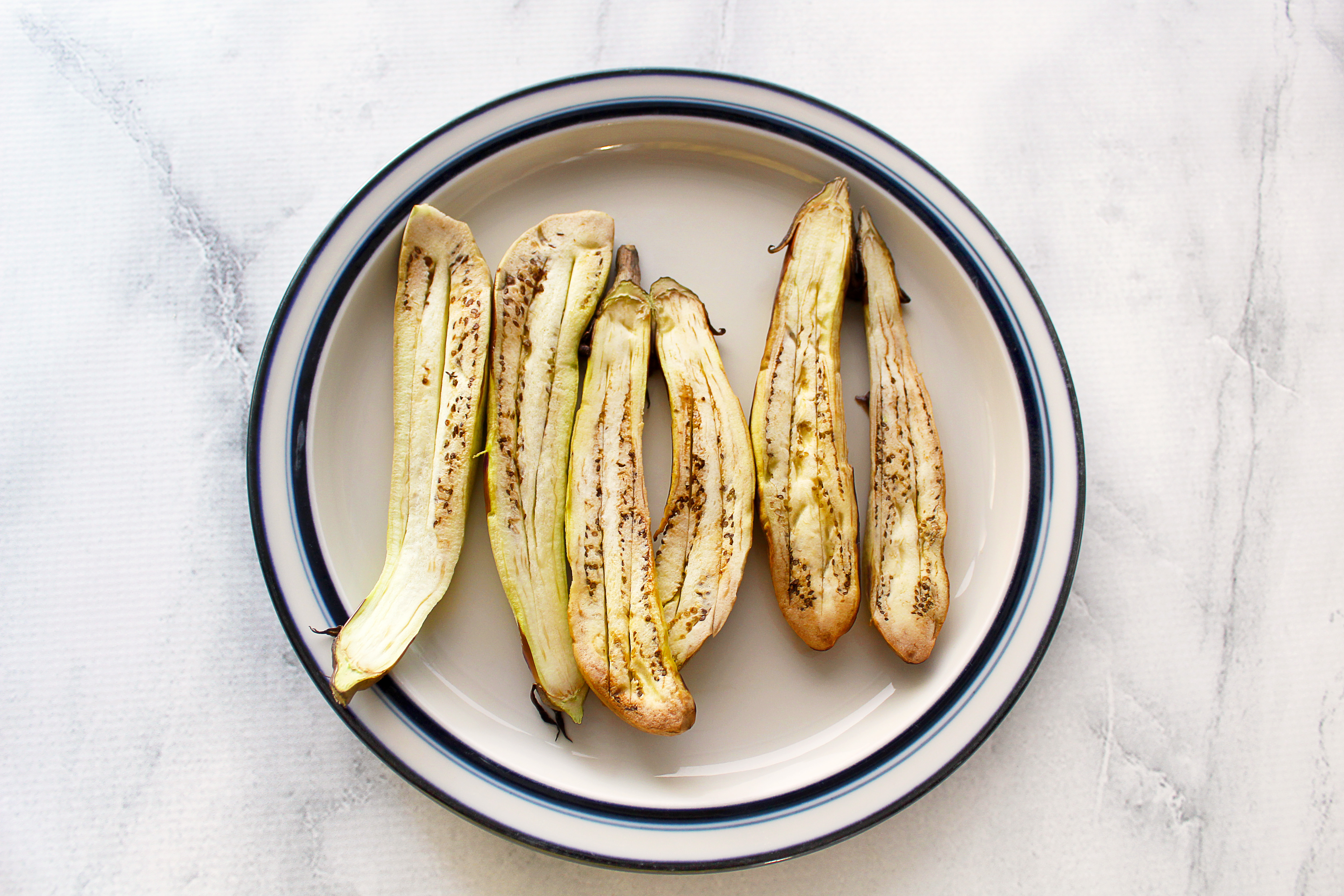 The rest is super easy. You bake eggplant in a pan and coat the eggplant with the homemade eel sauce. Ta-da! You got yourself an amazingly delicious vegetarian eel rice bowl!! The prep and hands on time are so minimal. I hope you give eggplant a chance to be your main star for one night!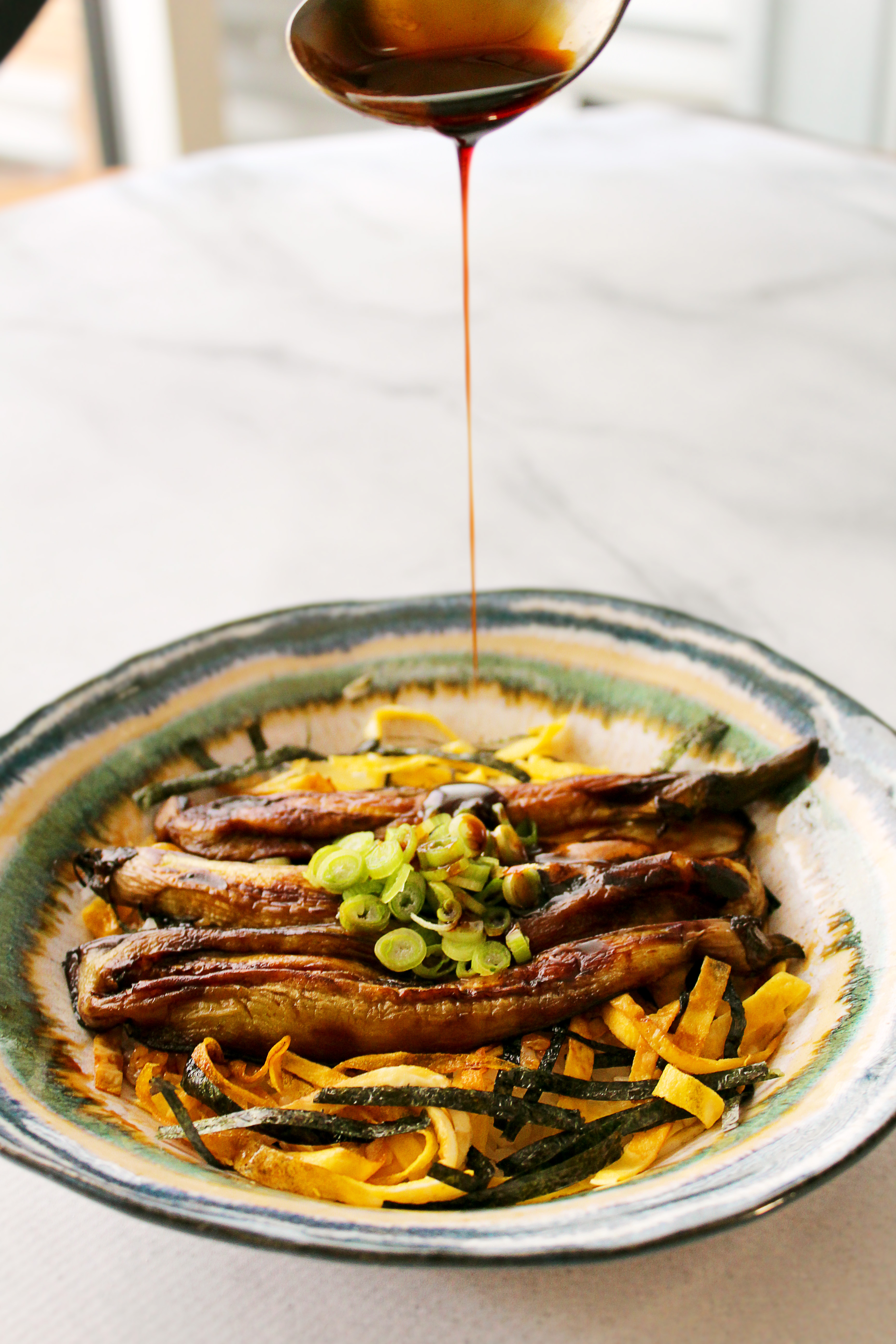 Sensory Signals: Imagine You are Eating This Right Now
At a glance, it is basically an eel bowl. Cooked eggplant is warm and meaty. It has a nice bite to it. The homemade eel sauce is savory yet sweet. The caramel-y sauce coats the cooked eggplant perfectly. The rice on the bottom catches the extra eel sauce. Okay, I know you love sweetened rice with eel sauce. So get cooking!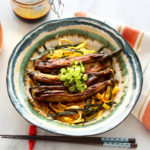 Vegetarian Eel Rice Bowl with Homemade Eel Sauce
Vegetarian Eel rice bowl will make both vegetarian and meat-lovers happy and satisfied! You will be addicted to this super-quick homemade eel sauce!
Course:
GF-option, Main Course, Rice
Ingredients
6

Japanese eggplant

If Japanese eggplant is not available, small regular eggplant (4) will work perfectly!

1

cup

cooked rice

4

sheets

thinly sliced nori (dried seaweed)

Optional
Eel Sauce
4

tbsp

soy sauce

3

tbsp

mirin

2

tbsp

sake

2

tbsp

sugar
Instructions
To prepare eel sauce, combine mirin and sake in a small sauce pan and bring it to a boil.

Reduce the heat to low and add soy sauce and sugar. Do not boil as soy sauce and sugar will burn. Cook for about 10 minutes, stirring occasionally. Set it aside.

Peel eggplant skin with peeler. Cut eggplants lengthwise. Add a few small cuts to eggplants so the eel sauce can soak in better.

Wrap the eggplants in plastic wrap and cook in microwave for 3 minutes until slightly softened.

Add 1/2 tbsp of olive oil to a medium pan and cook the eggplant over medium heat for about 5 minutes. Flip and cook 3 minutes.

Reduce the heat to low and add the eel sauce. Use a spoon to coat the eggplant with the sauce. Cook another minute.

Place rice to a serving bowl and top the rice with the cooked eggplant. Add thinly sliced nori and green onion for garnish.
Recipe Notes
The ingredients do not include the olive oil used for cooking eggplant. 
<<GF alert!>> To make this dish gluten free, you can use gluten-free soy sauce or coconut aminos. 
Did you make this? Share your chirashi sushi bowl on Instagram and tag with #HungryRis!
Let me know if you have any questions and comments about the recipe!