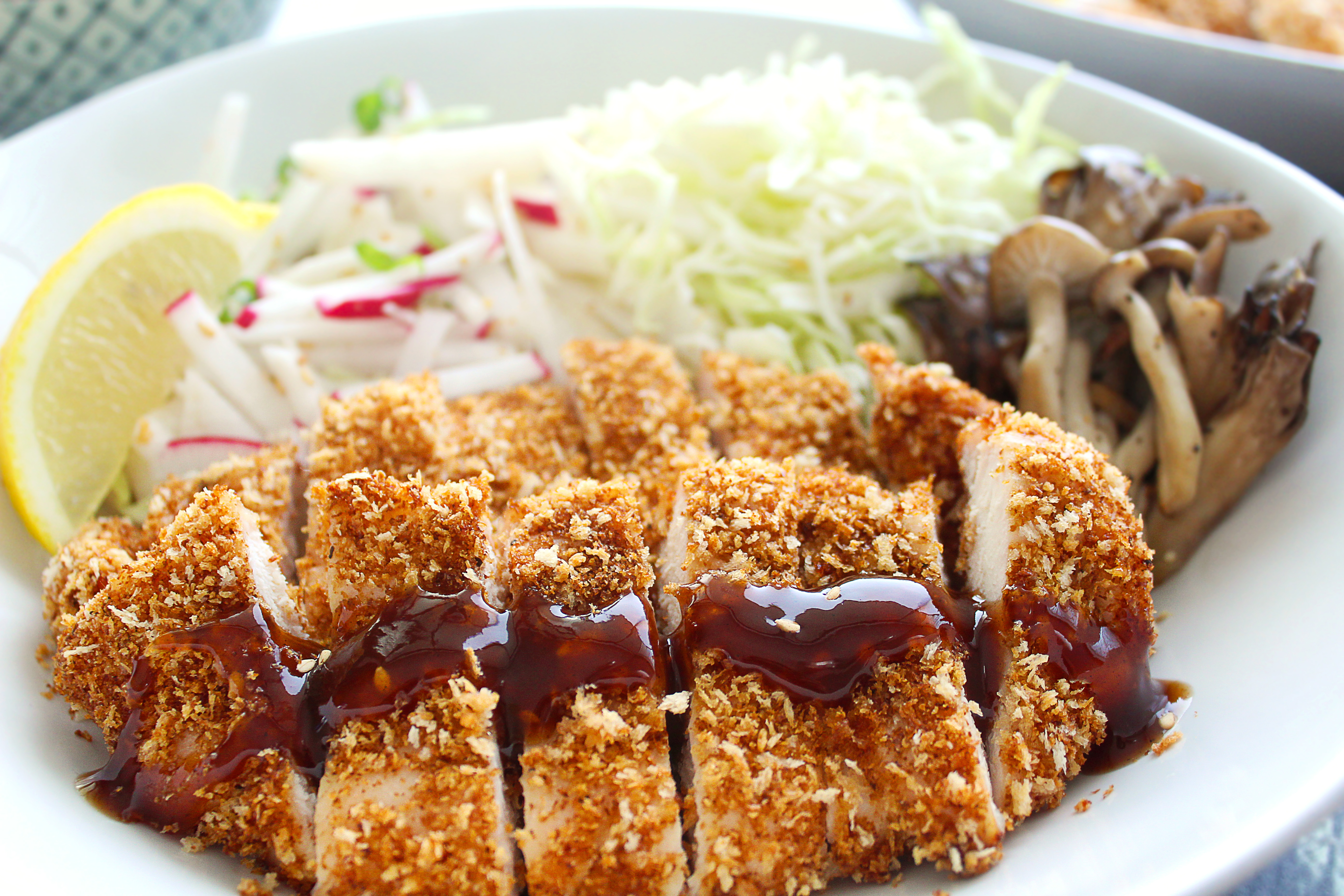 Hi friends! A lot of us started the New Year with a resolution to eat better and heathier, but how's that going? I appreciate and enjoy dishes in the most original, authentic form (which are not the healthiest in some cases), but sometimes it is nice to give a healthy spin on a dish so I can eat more often and more of it! So I made a healthy version of katsu, which is traditionally deep-fried.
So What's Katsu?
Japanese cutlet or katsu refers to the breaded and deep-fried meat, but "katsu" also means "win" in Japanese, so my mom used to make katsu the night before my big exams and marching band tournaments for wishing me victory. Yes, I was in marching bands in elementary school. I played the trombone for three years and was a conductor for one year! I carried a trombone that was as big as me at that time and was so proud! Later I learned, being in a marching band is considered for dorks in the U.S., which kind of makes sense since I was (am) such a huge dork!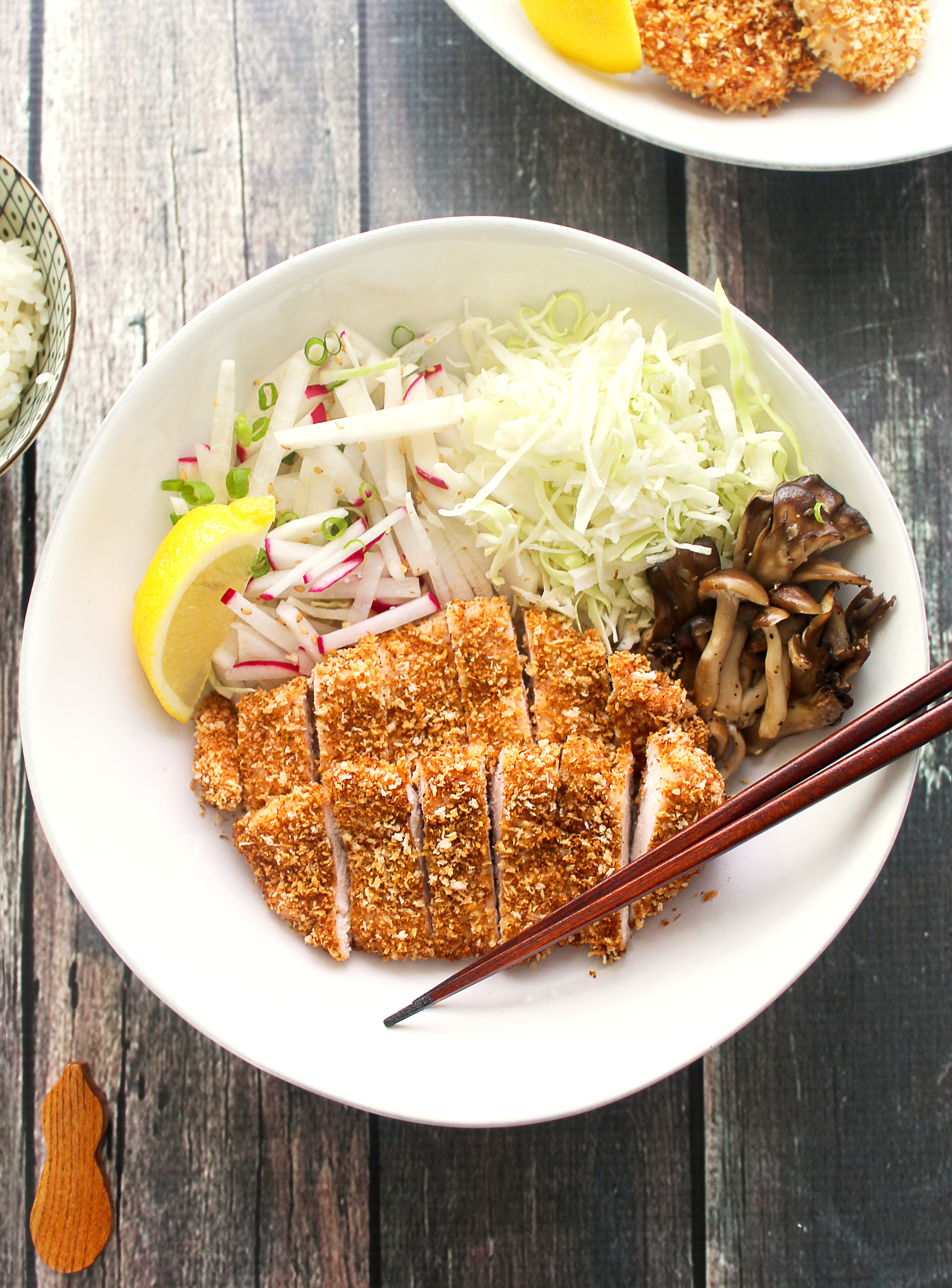 Tonkatsu refers to pork (ton) cutlet (katsu), and it is probably the most standard style of katsu. So katsu usually refers to pork cutlet by default. However, when I make katsu at home, my go-to is this baked chicken breast katsu recipe. It is healthier and lighter, and you don't need to deal with the fussy process of deep-frying and cleaup. Panko, Japanese breadcrumbs, and tonkatsu sauce will give this baked chicken cutlet a Japanese flare. Tonkatsu sauce is a sweet Japanese version of Worcestershire sauce, and you can buy it at Amazon (at this point what can we not buy at Amazon, seriously!) or Japanese grocery stores. Or you can make Tonkatsu sauce at home with the ingredients listed on 10 Japanese essential items. Or make homemade version.
Panko got a flaky and airy texture with larger flakes. Compared to regular breadcrumbs, it absorbs less oil which makes the final product lighter and even crunchier. You can find panko and even gluten-free version at many regular grocery stores.
There is a secret ingredient for HR baked chicken katsu to replicate the nice deep-fried texture without deep-frying. It is…..mayonnaise! Ta-da! Okay, you might be thinking "hmmm, I thought this recipe was supposed to be healthy." But guys, it is just a tiny-tine ½ tbsp. per serving. Instead of using eggs, you will use mayonnaise to coat chicken with breadcrumbs. I like breaded baked chicken or katsu, but the breadcrumbs tend to get soggy when you do not deep fry. I am not taking a credit for this secret ingredient! I learned this trick on Japanese Qu pie Mayonnaise website!! According to them, when the mayonnaise heats up, the oil in the mayonnaise gets separated from the rest and helps the panko crisp up. Pretty cool, right?!
(If you do not have mayonnaise handy, you can use an egg. But I hope you give this trick a try! It is well worth it!)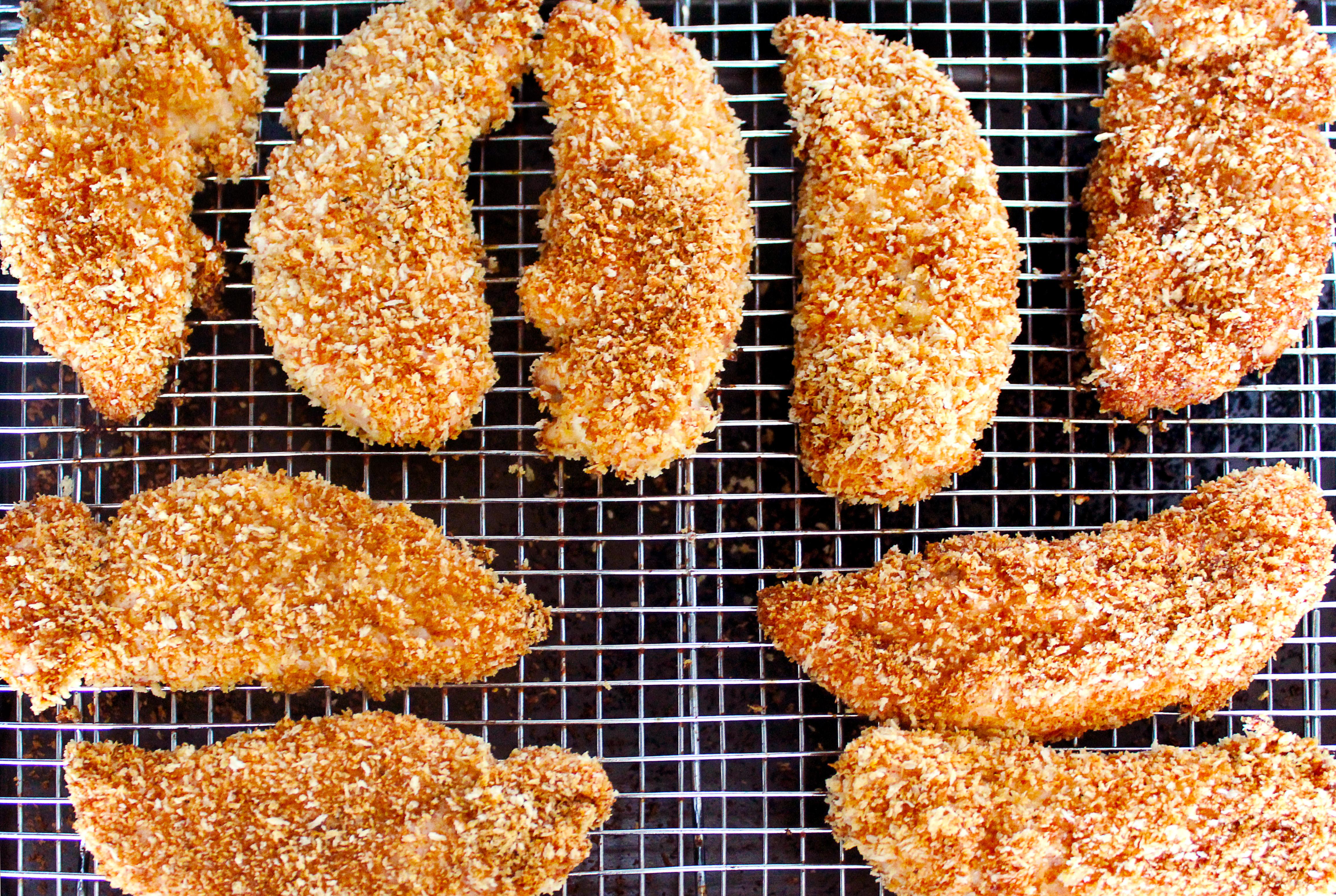 Sensory Signals – Imagine You are Eating This Right Now
Be careful. It is hot! The outside is airy and crunchy. Almost delicate (thanks to panko!). In contrast, the chicken is soft and tender. Opposites attract. The contrast textures give such a satisfying bite. Tonkatsu sauce adds a savory yet almost fruity flavor to the dish. With this hearty, satisfying dish, you will not be hungry tonight.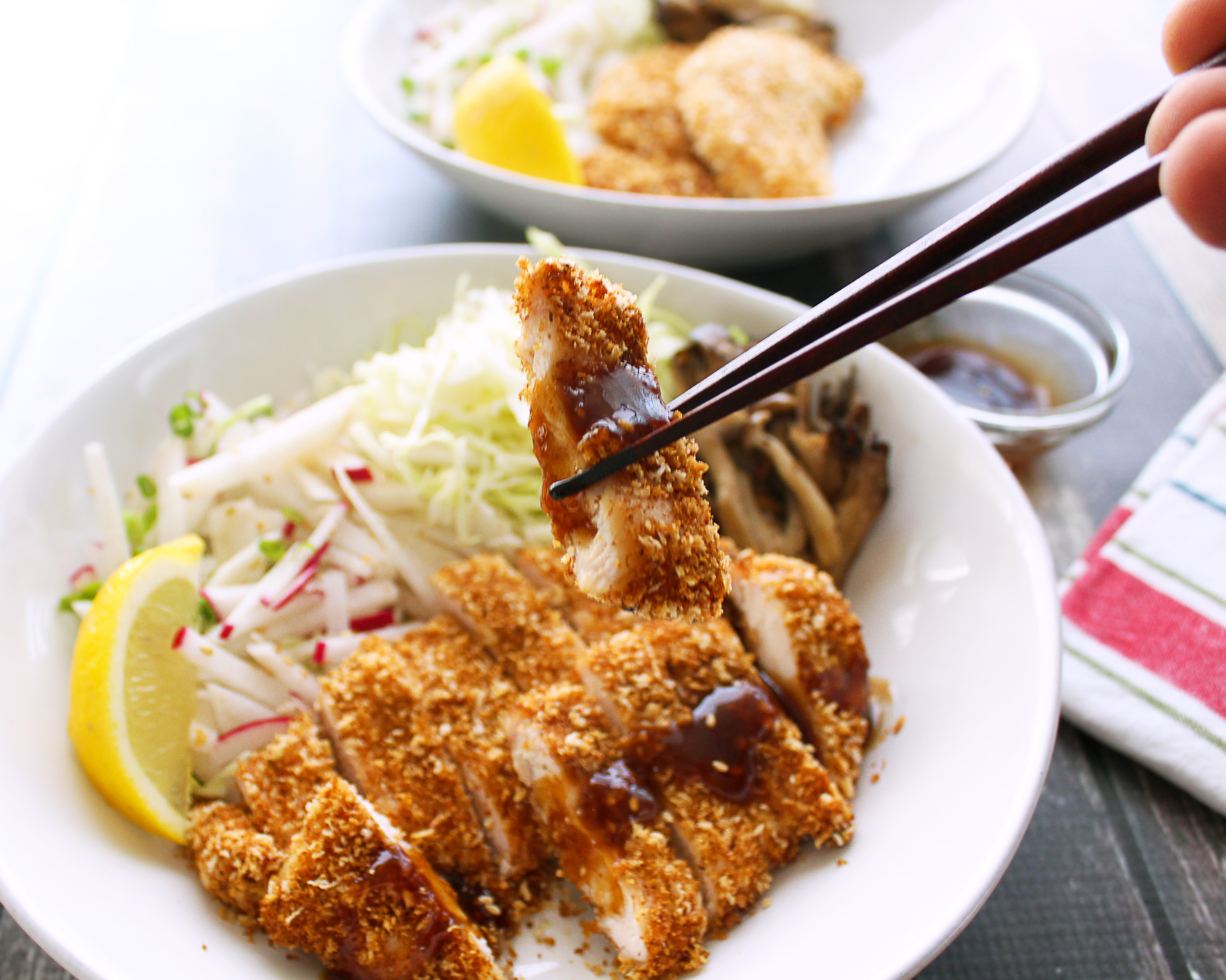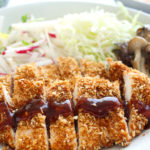 Baked Chicken Katsu
This is comfort food lightened up! The chicken is crispy and light but juicy and satisfying at the same time. Plus, you do not need to deal with messy frying!
Course:
GF-option, Main Course
Ingredients
3/4

lbs

skinless, boneless chicken tender

1

tbsp

sake

1

tbsp

mayonnaise

2.5

oz

Japanese breadcrumbs (panko)
For serving
3

tbsp

tonkatsu sauce

See notes below
Instructions
Preheat the oven to 450 degrees F or 230 degrees C.




Butterfly the chicken tender and pound out the butterflied chicken with a meat mallet to ¼-inch thickness.




Season with salt, pepper and sake on both sides. Set aside.




Lay panko in a large skillet over low-medium heat to toast them until golden brown. Stir frequently. About 5 minutes. Pour the toasted panko in a shallow dish.




Coat the both sides of chicken with mayonnaise.

Press the chicken into the toasted panko to evenly coat the both sides with the breading.




Stack a cooking rack on a sheet pan. This will help make the chicken extra crispy.

Bake the chicken in the preheated oven for about 20 minutes until the chicken is golden brown and cooked through.

Cool down the chicken on a rack for 5 to 10 minutes. Serve the chicken with tonkatsu sauce on a side.
Recipe Notes
You do not have Japanese grocery stores nearby to get tonkatsu sauce? No problem! You can get it at Amazon! Or you can make homemade tonkatsu sauce in less than 5 minutes. Use this recipe!
If you do not have mayonnaise handy, you can use an egg per serving. Just beat it and dunk the chicken before you coat it with panko.  
<<GF alert!>> To make this dish gluten free, you can use gluten-free panko which is usually available at regular grocery store! Also, omit store-bought tokatsu sauce and make one at home using gluten-free soy sauce!
Did you make this? Share your  baked chicken katsu on Instagram and tag with #HungryRis!
Let me know if you have any questions and comments about the recipe!