Have you browsed Japanese recipes through online and ended up making nothing just because you did not have any critical ingredients in your kitchen? Do you want to get into Japanese cooking, but not sure where to start? Stock your pantry with a few basic Japanese ingredients today! I pared down the list to 10 must-have items for you, and most of the items are readily available at the world's biggest store, Amazon and your local stores.
This list gives you the perfect head start! With these items in hand, you can create from authentic and iconic Japanese meals to countless Asian-inspired dishes!
Japanese Cooking "How To"
To get you up with Japanese cooking along the pantry essentials, I am putting together some Japanese Cooking essentials "HOW TO".
10 Pantry Essentials
---

You may already have packets of soy sauce from a sushi restaurant sitting in your kitchen, but it is great to invest in a bottle. Soy sauce is one of the most fundamental ingredients in Japanese cooking and adds salty yet mildly sweet flavor, aroma, and golden brown color to your dish. Soy sauce not only helps to create Asian flavors but also works well as an amazing flavor enhancer! You should add a small amount to your meat sauce and soup next time – it will add more complexity and depth to your dish. It sounds little weird but trust me! Once it is opened, make sure to store in the fridge and use it over 3 months or so. Gluten-Free version is also available at Amazon!
---
Similar to any other vinegar, rice vinegar is used to add acidity to dishes like sushi rice and Japanese salad. But compared to balsamic and red wine vinegar, rice vinegar has a mild and less pungent acidic flavor. Next time you make a salad dressing from a scratch, use rice vinegar instead and throw chopped roasted seaweed or edamame as toppings. It would turn your boring salad, that you do not even want to eat, into a gourmet salad just like what is served in a Japanese restaurant! Unlike soy sauce, you can store in a dark place at a room temperature even after it is opened.
3. Sake
---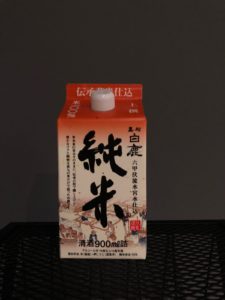 Sake is a magical ingredient. Just like wine does, sake boosts the flavor of your dish, tenderizes protein, and masks smell from meat and fish. It also help cook faster. And just like wine you use for cooking, you do not need to purchase super expensive sake, but you should use drinkable sake for cooking (that way, you can drink while you cook!). All joking aside, you do not want to use sake you would not drink. I do not recommend purchasing sake sold as "cooking sake" as it usually has added salt and additives and does not seem to help enhance flavors as much. You can purchase sake at Japanese market like Mitsuwa or here and here.
---
Mirin is sweetened rice wine made out of glutinous rice and gives honey-like sweetness and an umami flavor. Also, it adds a nice glaze to a dish. If you have watched Barefoot Contessa on Food Network, you heard Ina Garten says "use good olive oil" in every single episode. Not just any olive oil, but good olive oil. Because it makes miles better dishes! I say the same about mirin! Use Hon Mirin which means real mirin in Japanese. Real mirin has both a high sugar content and an about-14% alcohol content. Real mirin is considered alcohol, and you could be ID'd when you make a purchase. It is a bit tough to find in the U.S., but Amazon and some Japanese markets have them. Mirin-like condiments are a lot cheaper than hon mirin but usually made out of corn syrup and has an artificial taste.
---
Miso, fermented bean paste, is for more than just miso soup. With this spreadable beauty, you can make a variety of deeply savory and umami-packed dishes. There are many kinds of miso; made with different ingredients and different making processes, but I think the most versatile miso is white miso which is characterized for mellow and sweet flavor. My aunt in law made roasted brussels sprouts dressed with mustard and white miso for this Thanksgiving! Genius! I am planning to share her recipe here so stay tuned.
---
Don't. Just don't even think about making rice balls and sushi rice with any other rice besides Japanese short grain rice. Basmati, jasmine, and brown rice are all aromatic and taste great, but for Japanese cooking, you need starchy and sticky short grain rice. Simply adding more water to long grain rice and making it mushy is not going to do a trick! Also, the slight sweetness and mild fragrance of Japanese rice work really well with rice bowls like gyudon (beef bowl) and oyakodon (egg and chicken bowl). It does not overpower your dish and nicely soaks up all the flavors and juice. And of course, it makes the perfect sushi rice (recipe here)! Try my easy sushi rice recipe and gorgeous chirashi sushi (assorted fish bowl) recipe! The brands I recommend are Tamanishiki
, Koshihikari
, Akitakomachi. You can purchase Japanese short grain rice at Amazon and Japanese grocery stores.
---
What is dashi? Dashi is a sea-based cooking stock essential to many Japanese dishes. It is a building block in dishes like miso soup, udon noodle dish, and all other nimono dishes (meaning simmering dishes). Similar to chicken stock, homemade dashi can be made by soaking and cooking kombu (dried kelp), katsuobushi (dried bonito flakes), niboshi (dried sardines), or a combination of these in water. In a perfect world, we all have time and energy to cook dashi from scratch. Of course, homemade stock always make your food taste better, and it sounds so cool to say "oh I make my own dashi (with an accent) for miso soup". But really though, I cannot deny the sheer convenience of store-bought stock, whether it is chicken stock or dashi. Also frankly, making miso soup with store-bought dashi is way better than not making miso soup just because you did not have time to prepare homemade dashi. So which store brand to choose? I always go with non-MSG dashi powder like this one
 from Amazon or Japanese market like Mitsuwa (you may find cheaper options at Japanese market than Amazon).
---
Toasted sesame oil is a flavor booster! It adds nice nutty aroma and rich toasty flavor. A little bit goes a long way. The key is to add sesame oil toward the end of cooking process, as the fragrance gets lost when it is heated for a long time. As a finishing touch, I add a tablespoon or so to stir-fry, gyoza dumplings, and hijiki no nimono (simmered hijiki seaweed dish). Toasted sesame oil is different from non-toasted sesame oil. One you find on an Asian isle at a grocery store is most likely toasted sesame oil which is for finishing and flavoring, whereas sesame oil is for cooking. How to distinguish? A color. Toasted sesame oil got a beautiful umber color vs an olive oil like color of non-toasted sesame oil. Store in a fridge once opened.
---
Japanese toasted seaweed is usually sold as "sushi nori" on Amazon and at Japanese market.  There are two major types of nori; Ajinori (flavored seaweed) and yakinori (unseasoned toasted seaweed). In the last couple years, flavored nori became increasingly popular for healthy snacks. Japanese people often use ajinori for rice balls, but for cooking, I recommend having unseasoned toasted seaweed in stock. You can of course use it for sushi but also as a garnish for salad and Japanese inspired pasta dishes. Nori has to be earthy and crispy. If you can, find one with less sheet counts. That way, you can use it up before it socks up moisture and becomes soggy.
10. Syoga (Fresh Ginger)
---
One thing I purchase at a grocery store every week without failing is ginger. Fresh ginger adds a sharp yet not-super-hot spicy taste. You can use fresh ginger from stir fried rice to soup, to seaweed salad, to a marinade for syogayaki (ginger pork dish). If ketchup makes any dish kids-friendly, ginger "adult-nize"s any dish with a subtle accent. Besides being a tasty spice, this underrated superfood is a digestion helper, cold fighter, and low blood sugar promoter. Ginger powder works well for baking but does not add the same potent and warm flavor and aroma to savory dishes so make sure to grab fresh ginger!