Despite what many people think, making perfect sushi rice is not difficult. Sushi rice is called su-meshi in Japanese, and the literal translation is vinegar (su) rice (meshi). As the translation suggests, sushi rice is prepared by mixing vinegar (along with sugar and salt) into cooked rice. Sounds simple enough, right?!
As long as you follow a couple key steps, you can enjoy perfect sushi rice at home. And once you master sushi rice, you can easily make chirashi and spicy tuna rolls. You might want to even throw a sushi party at home. Boom, that is your next hip and fun dinner party idea right there! So here is a super simple, answer-it-all, how to make perfect sushi rice!!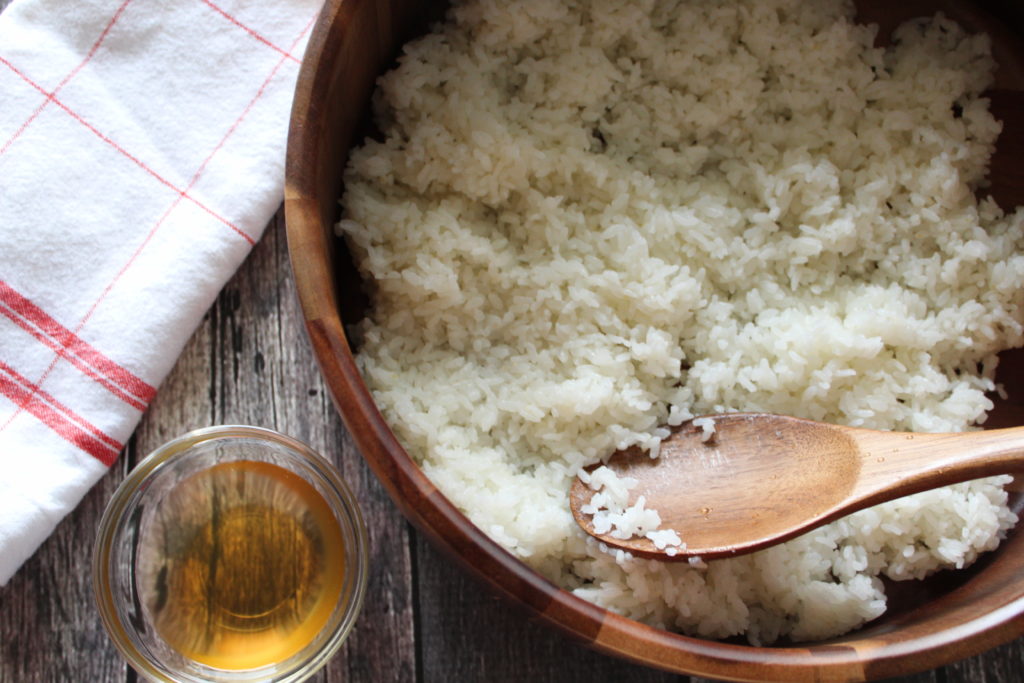 As I mentioned here, you want to use only Japanese short-grain or short-grain rice for sushi rice.  Compared to long-grain rice, Japanese rice absorbs the vinegar mixture better and is moist, sticky, and clumpy, which makes the perfect texture for sushi rice. For sushi rice, you want the rice to stick to nori (roasted seaweed). No, no, no, you cannot add extra water to your Jasmine rice and make it sticky! It does not result in the perfect, light sushi rice. So skip your venti latte three times, and get your Japanese rice this week!!
When you are cooking rice for sushi rice, go a couple tablespoons shy on water than the instruction on your rice package suggests. If you are using a Japanese rice cooker like Zojirushi, it would specify how much water to put in for sushi rice. As you will add vinegar (more liquid) to the cooked rice, too much liquid can make the rice too mushy, which you want to avoid.
Whenever handling rice, Japanese use a rice paddle called shamoji made specifically for rice. A rice spatula usually runs smaller than regular spatulas for easy handling, and a round shape of the spatula makes prevent from damaging delicate rice. You can find it on Amazon
for less than $5. If you do not have one, you can use a wetted wooden spatula. Wetting with water will avoid rice from sticking to the spatula.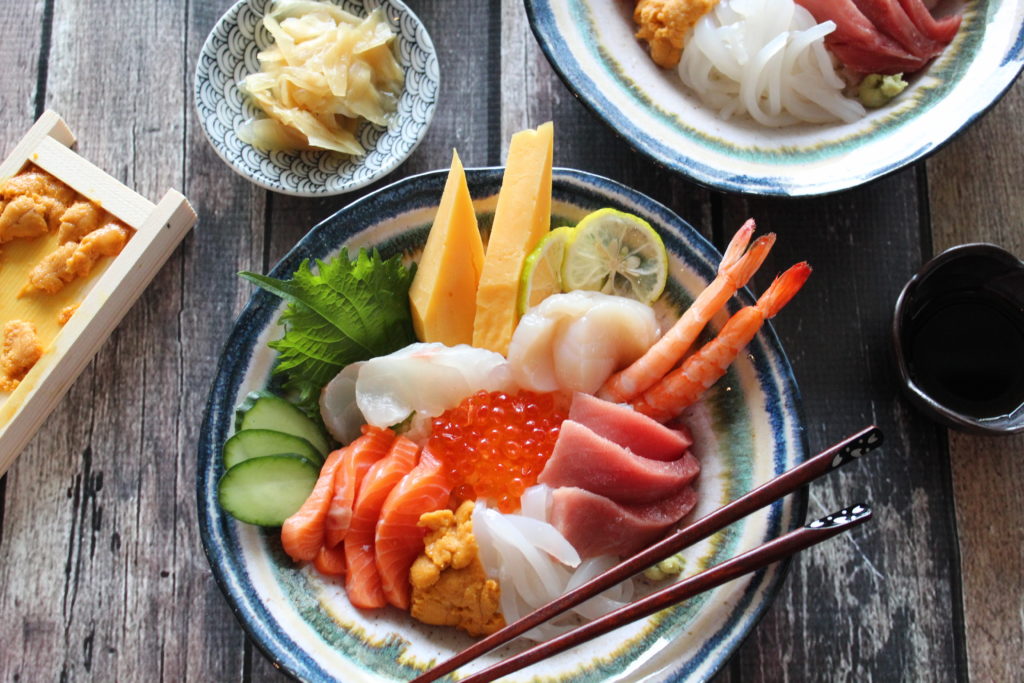 Sayuri Mama's tricks and tips!
Sayuri is my mama. As I mentioned here, she is the best home cook ever! Under her apron, she got millions of cooking tricks. I am sharing her tricks here and there to make your creation even better and easier.
Sayuri mama's trick #1
Today's recipe is pretty simple. But when the recipe is simple, small extra step goes a long way.
When you are mixing rice vinegar, sugar, and salt to make sushi rice, you can simply combine all ingredients in a small bowl. But instead, her trick is to heat up the mixture in a pan. In a small pan, mix rice vinegar, sugar and salt. Stir and cook over medium heat just until sugar is dissolved, 3 to 4 minutes. Never boil the mixture. This 3 minutes extra step would make the flavor of the vinegar mixture mild and make even the sushi rice more flavorful and fragrant.
Sayuri mama's trick #2
The way you mix the rice is a key. Rice is a delicate flower (or crop to be exact!). The worst thing you can do is to smash rice. Each rice pearl is rain drop shaped. Just think that you are trying to keep the rain drop shape when you are mixing the rice with vinegar mixture. My mom says mix as if you are going to "slice" rice. A rice spatula comes very handy here. Coat the rice with the vinegar mixture by waving the spatula back and forth.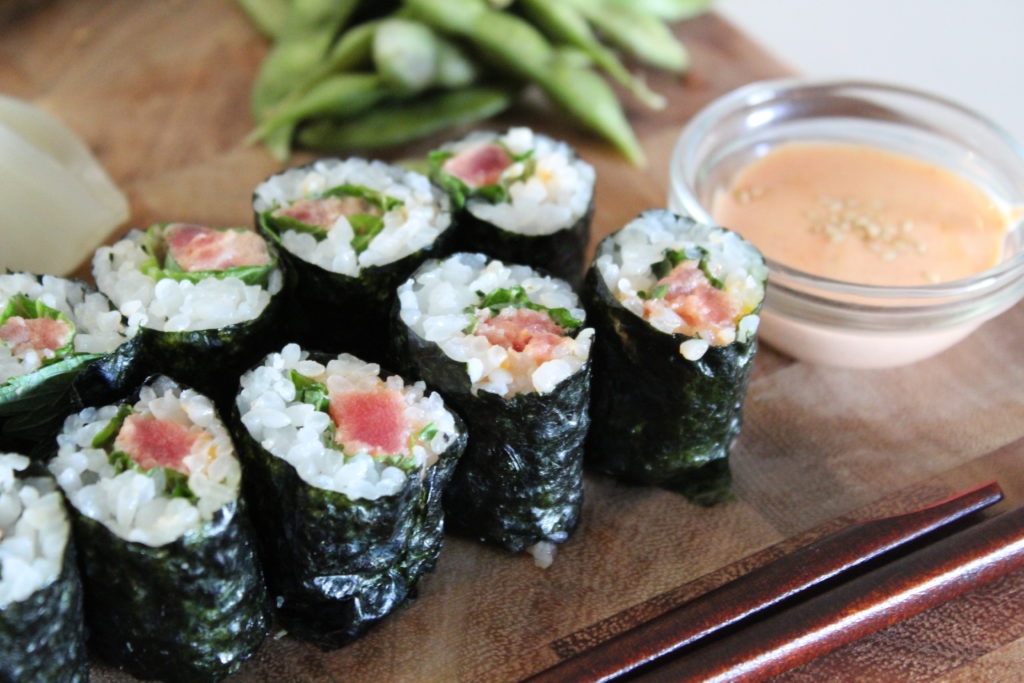 Perfect Sushi Rice
Super quick, easy, and tasty sushi rice recipe. From hand rolls to chirashi sushi, with this recipe, you have endless options of sushi rice dishes you can enjoy!
Ingredients
1 1/2

cup

Japanese short-grain cooked rice

1 1/2

tbsp

rice vinegar

1/2

tbsp

sugar

1/2

tsp

salt
Instructions
To make sushi rice, simply mix rice vinegar, sugar and salt. Or if you got an additional 3 minutes, cook the vinegar mixture in a small pot over the medium heat just until sugar is dissolved.


Place cooked rice in a large bowl. Pour the vinegar mixture to the cooked rice. Rice has to be warm so it observes the mixture well. Mix the rice, using a wetted rice paddle or wooden spatula. Do not smash rice while mixing.
Recipe Notes
Some prefer well-seasoned sushi rice, and others don't. The beauty of cooking sushi rice at home is that you can adjust the flavor based on your preference. I like vinegary rice so I may add just a dash more of vinegar. If it is up to Hungry Drewsky (my husband), he would add an additional tablespoon of sugar because he is a suga lova!! If this is your first time making sushi rice, follow the recipe and taste to see if you want to add more vinegar or sugar. Just NO additional salt! You do not want salt to overpower the subtle vinegary flavor and sweetness of sushi rice. Sushi rice is so simple and delicate, it is easy to mess up the flavor profile by adding too much salt. If you want more seasoned sushi rice, add vinegar and sugar, just NOT salt. Trust me!! 
Did you make this? Share your sushi rice on Instagram and tag with #HungryRis!