Happy Hump Day! I know you have been asked this question more than a couple times by now, but let me ask you…what are your resolutions for 2018?! My husband aka Drewsky and I were back in Japan during this holiday, and we jotted down a handful of resolutions by category on a train ride from my hometown to Tokyo. It was kind of fun to do it together and got us pumped on what's to come in 2018!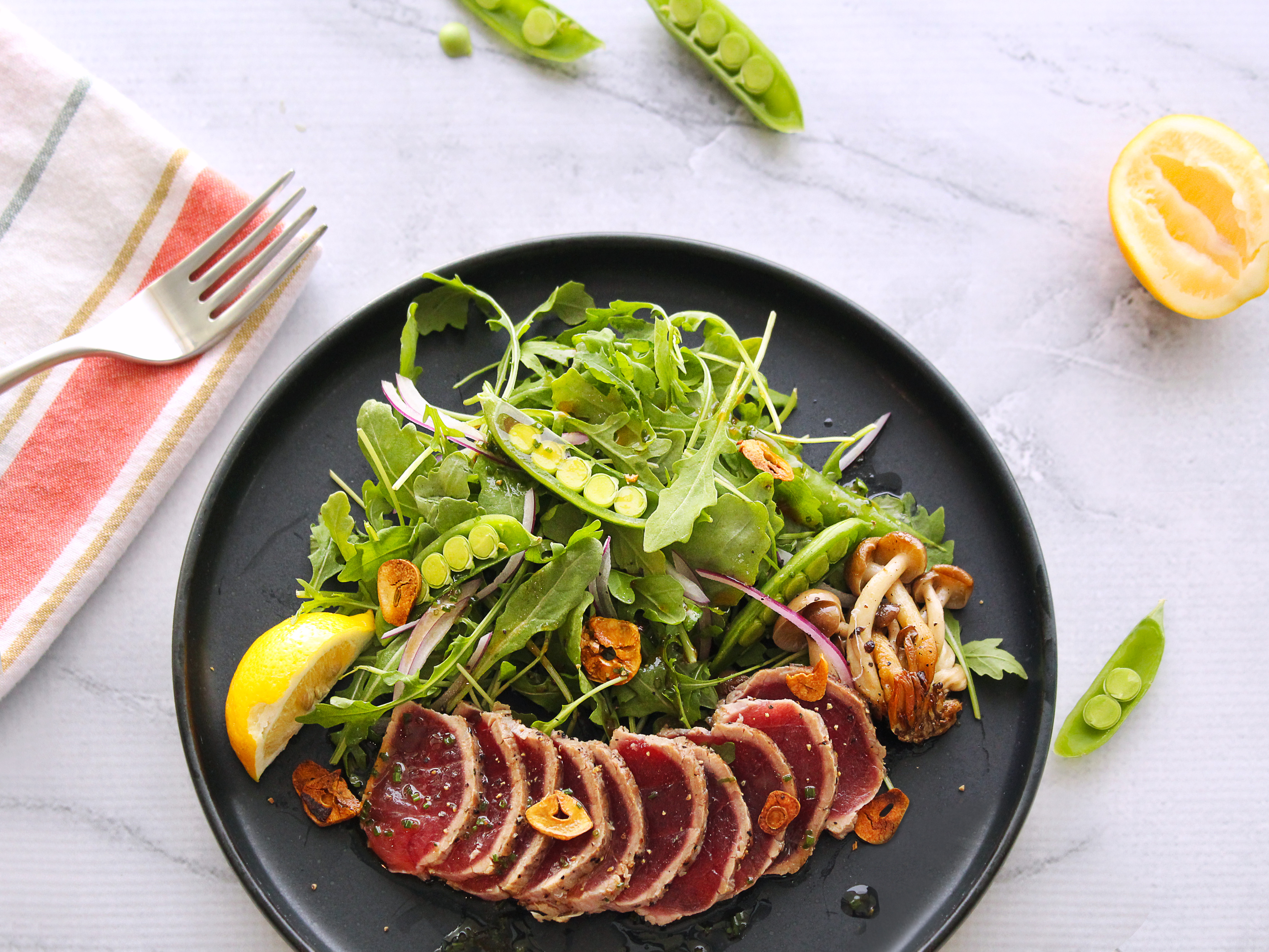 One of the goals is healthy eating. Dah. I mean who does not have that as a goal, right?! We did pretty good last year, but we are trying to bring lunch at least 3 times a week this year! Now, the holiday is over, I am saying bye to mashed potatoes that covered my whole plate and a "piece" of pie which my family deceivingly thought I was sharing with Drewsky. While the resolution for healthy eating is still alive and our motivation is there, I thought we can kick start wholesome eating with this delicious tuna tataki (maguro no tataki)!
So What's Tuna Tataki (Magoro no Tataki)?
Tataki is a Japanese cooking preparation in which a chunk of meat or seafood is lightly seared on the outside (inside is still raw) and served in thinly slices with some kind of sauce and dressing.
That means, basically, all you need to do is to sear tuna in a pan for a couple minutes and dump just a few ingredients in a jar to make sauce while the seared tuna is cooling down in an ice bath. Under 15 minutes or less, you have this amazingly tasty and healthy meal! What I love about this dish is you can easily make a complete meal by serving with a salad on a side. Also, I use my go-to Japanese citrus sauce for the tuna which made with soy sauce, rice vinegar, and lots of lemon juice. This gives a lovely Japanese note to any grilled fish and vegetables. The sauce also goes really well with grilled chicken! Well, basically anything! If you like wasabi, you must add a small amount of wasabi to give the sauce an adult flare! I even use this sauce as a dressing by adding a couple tablespoons of water to slightly thin down.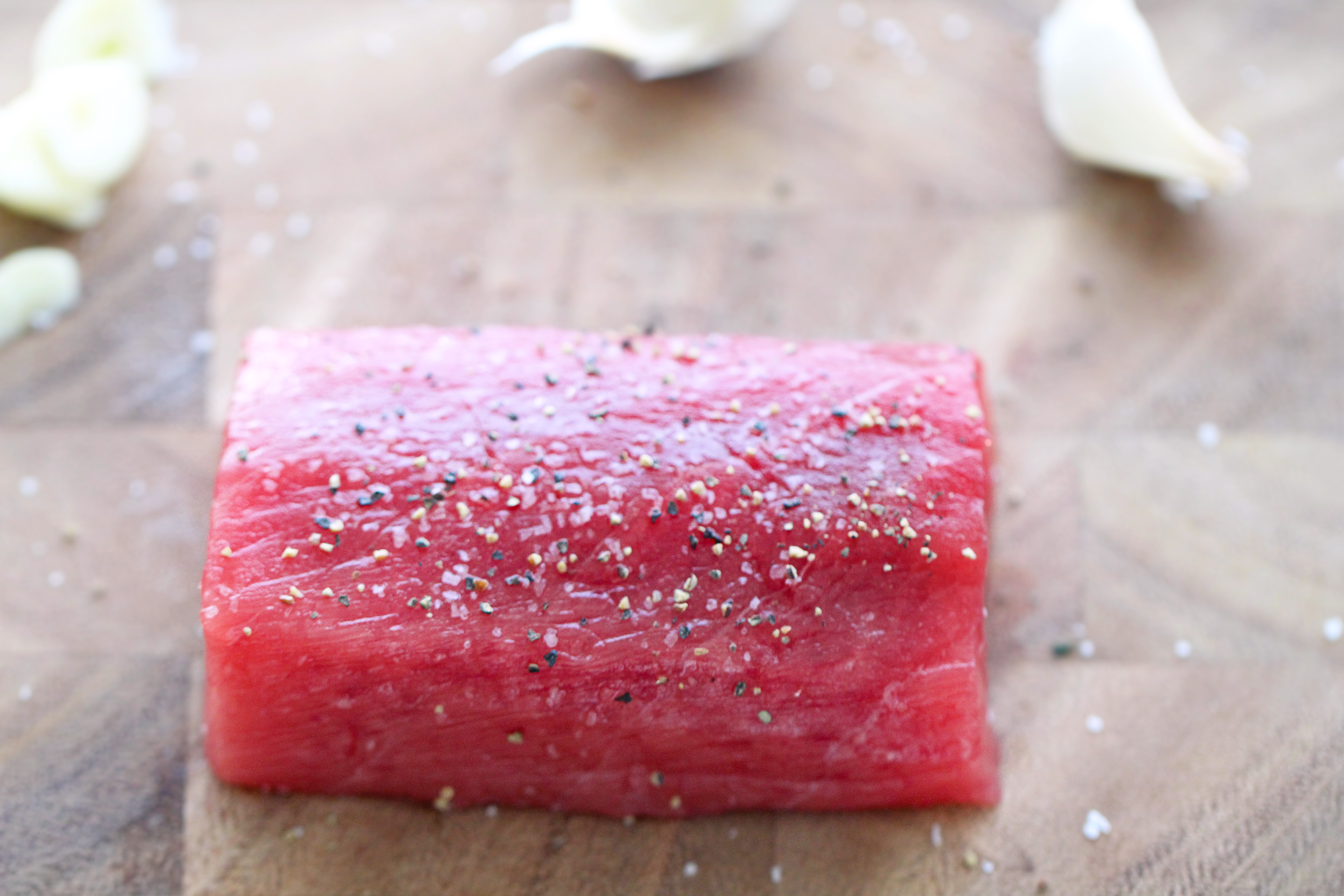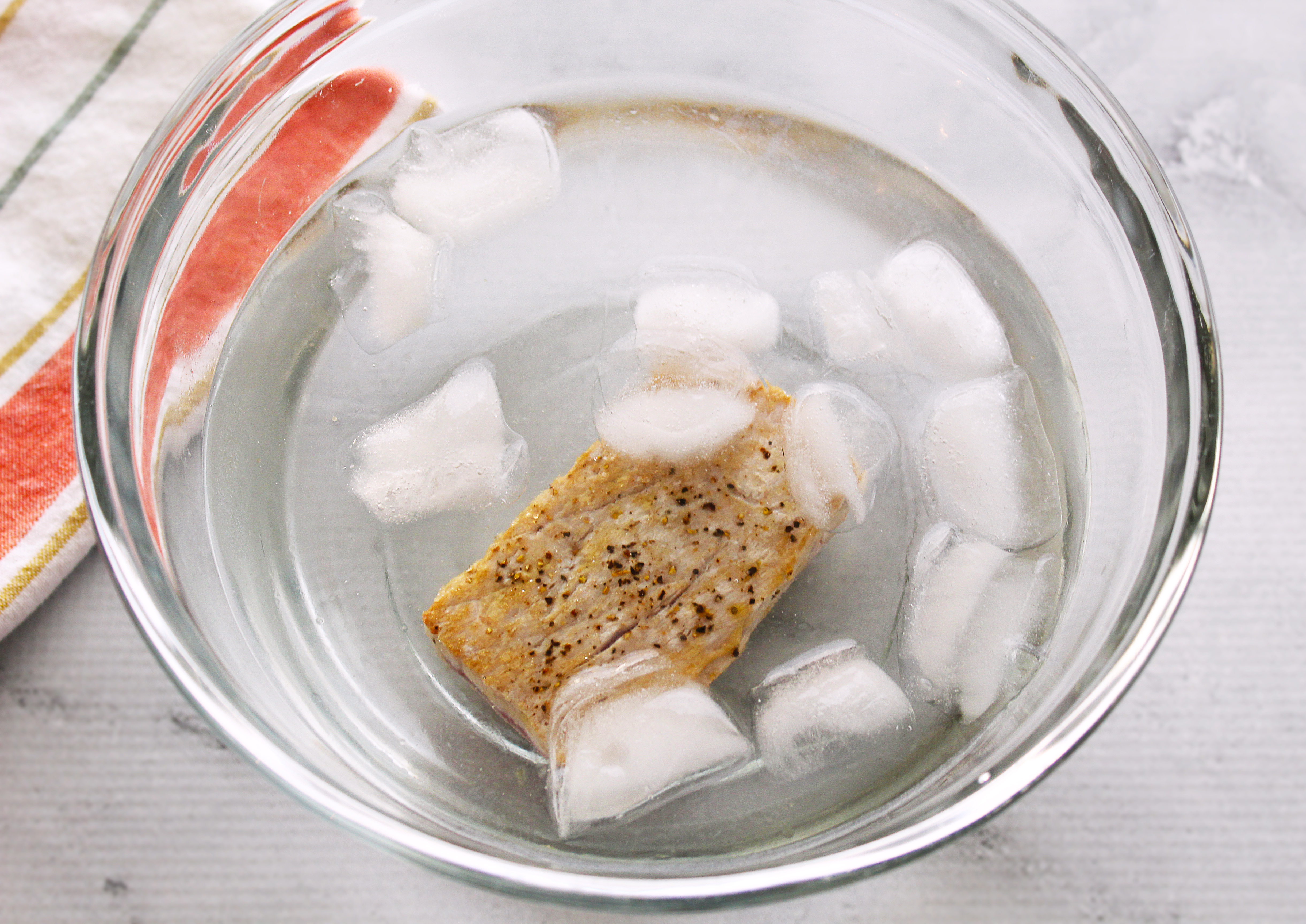 I dressed up the seared tuna with garlic chips and open-faced sugar snap peas. Aren't they so gorgeous? Those little things go a looong way. Let me know what tricks you use to jazz up your easy dinner to make it look like you took forever to prepare the dish! Not just for your dinner, but this dish makes the perfect appetizer for your next party as well!
Sensory Signals: Close Your Eyes and Imagine You are Eating This Right Now
The seared tuna is slightly smoky and rich. The sauce is citrusy. You can taste a hint of sesame oil in the sauce which balances well with the citrus note. The wasabi in the sauce gives a nice kick and clears your nose. The crunchiness of garlic chips and snow peas adds another texture to the dish. All together, it is refreshing yet satisfying. You feel healthy, eating this but will not feel like you are missing out!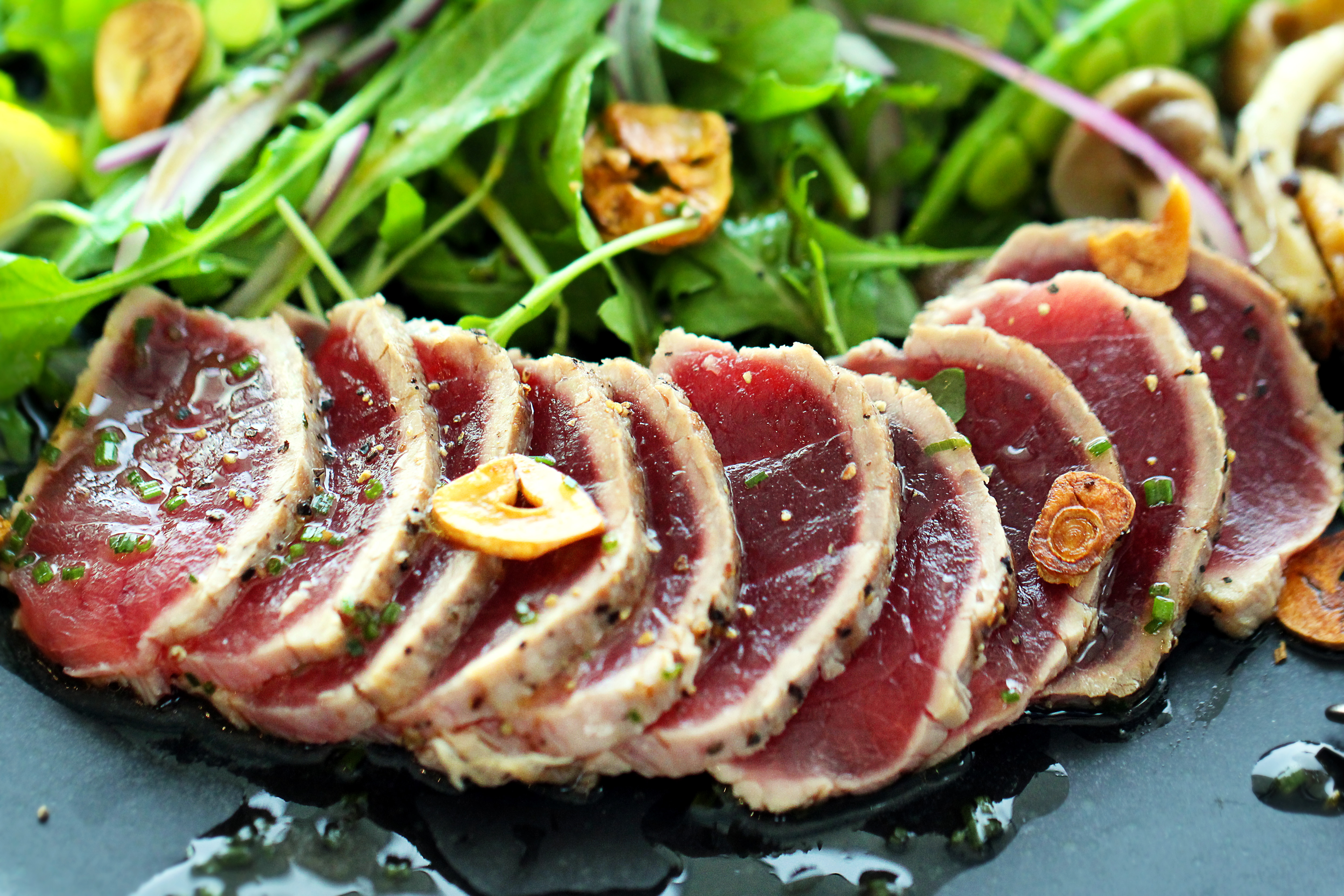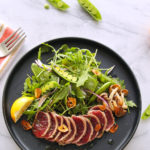 Tuna Tataki (Magro No Tataki)
This dish is an ultimate proof that healthy food can be so amazingly delicious and satisfying. You are going to love the combination of rich seared tuna and the citrusy sauce!
Course:
Appetizer, GF-option, Main Course, pescatarian
Ingredients
0.75

lb

Sashimi grade tuna

salt

pepper
Japanese Citrus Dressing
2

tbsp

olive oil

2

tbsp

soy sauce

1

tbsp

rice vinegar

1/4

lemon juice

1/8

tsp

sesame oil

pepper

to taste

1

tbsp

chopped chives

optional

1

tsp

wasabi

optional
Toppings and Salad
3

cloves

thinly sliced garlic

10

open-faced sugar snap peas

2

oz

salad mix of your choice

You can add sliced red onions and ribboned carrots too!
Instructions
Season the tuna liberally with salt and pepper and let it sit for 10 minutes. Fill a medium bowl with ice and water and set aside.

Meanwhile, heat 1/2 tbsp of olive oil in a pan over very low heat and toss the garlic slices. Cook for 5 minutes or until they are golden brown and crispy, stirring frequently. Drain and let them cool on a paper towel.

Clean the pan you cooked garlic with paper towels. Heat 1 tbsp of olive oil over medium heat. Sear the tuna for 15-30 seconds each side, depending on a size of tuna.

Remove the tuna from the pan and immediately transfer the seared tuna to the iced bath.

While the tuna is cooling down, prepare the Japanese citrus dressing by combining all ingredients to a jar or a bowl. Mix well.

Take the tuna out of the ice bath and pat dry with a paper towel. Slice the tuna against grain about 1/8 to 1/4- inch thick.

Serve the sliced tuna with the garlic chips, sugar snap peas and salad mix. Pour the prepared sauce on top and enjoy!
Recipe Notes
The ingredients do not include the olive oil used for cooking garlic and tuna. 
Wasabi will "adult-nize" the sauce and give a nice kick - highly recommended! 
If your local grocery store does not carry rice vinegar, you can get it at Amazon!
<<GF alert!>> To make this dish gluten free, you can use gluten-free soy sauce or coconut aminos. Also omit wasabi. (The original form of wasabi, a root, is naturally gluten-free, but the tubed wasabi usually contains a small amount of gluten.) 
Did you make this? Share your chirashi sushi bowl on Instagram and tag with #HungryRis!
Let me know if you have any questions and comments about the recipe!