Hi there. Welcome to Hungry Ris!! So excited to have you here and share yummy and easy Japanese recipes through this site. After (only) 9 years of thinking about having a food blog on and off and endless cooking and eating, my VERY FIRST post is up!!
Just a little bit about me, I'm Arisa. Just to note, no "M" and 1 "S" (Not Marisa, not Arissa, definitely not Alyssia). I moved to Southern California a year after I graduated from high school in Japan. A long story short, after many years of living here, I re-connected with the food I grew up with and re-discovered how amazing Japanese style eating and cooking are. My sisters who live in Japan and I got into Japanese cooking around the same time (no coincidence here, it is a sister thing). We now constantly share the pictures of dinner and recipes through LINE, which makes me happy. So why don't I extend the love to you?  Japanese food tastes good, is good for you and surprisingly super easy to make. It is basically holy grail of home meals! If this site can help you add a dash of Japanese flavor to your everyday meal, it would make me the happiest.
Here is my long story!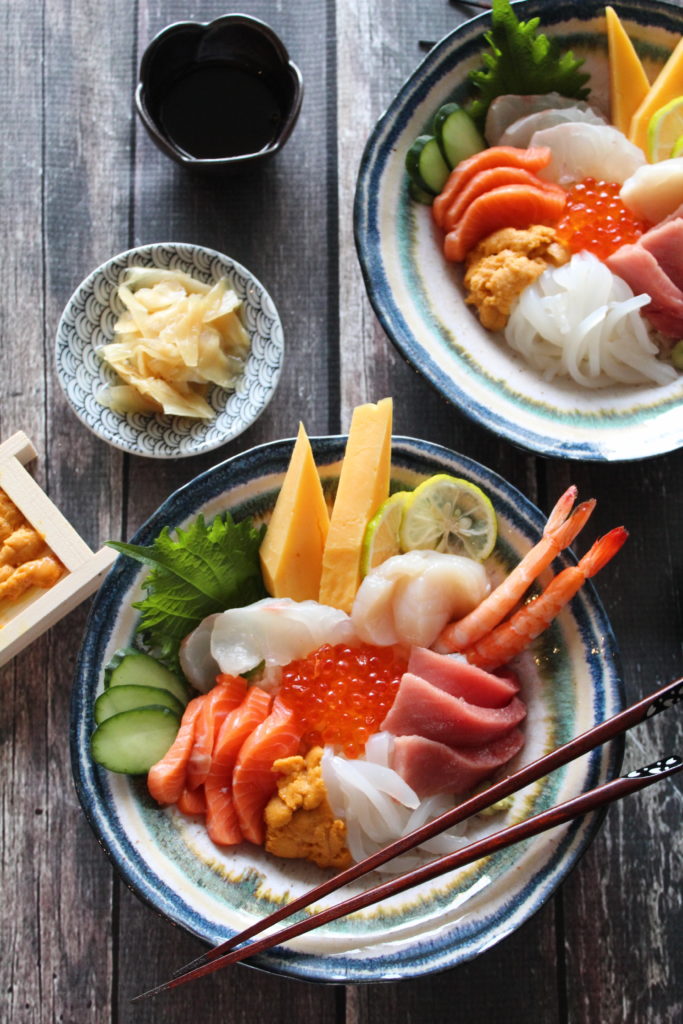 Okay, enough about my introduction. Let's get to business, shall we? After debating what to cook for my first post, I picked (drum roll please)…chirashi sushi bowl! Chirashi means "scattered" in Japanese, because the dish is literally scattered thinly-sliced fish pieces over a bed of sushi rice. Sometimes the toppings include vegetables and cooked eggs as well. I picked chirashi for the first HR post because it is very quick to prepare and looks beautiful. Also, this is a good chance to master sushi rice. Once you learn how to make sushi rice, you can top it with blue crab meat and sliced avocado with salt to jazz things up. Chirashi sushi is actually my husband (Andrew)'s fav. Andrew likes it because he gets to eat a variety of fish in one bowl, and that is exactly how it is believed chirashi sushi was born.
What is Chirashi Sushi? 
In 1654, a town in Okayama prefecture was flooded. After the flood, the local government enforced a "one soup, one dish" law to limit the food consumption and spend the existing resources for revival of the town. The citizens who were opposed to the law hid a variety of ingredients under a bed of rice in a bowl, which is believed to be an origin of chirashi sushi. Genius! In Okayama and other regions of Japan, chirashi is called bara zushi (sushi).
 There are two major styles of chirashi in Japan: Osaka chirashi and Tokyo chirashi. Since I grew up in a city called Himeji, which is near Osaka, I'm used to Osaka chirashi. In Osaka and surrounding regions, chirashi sushi or bara zushi is more known as sushi rice in a bowl topped with small pieces of cooked eel, shrimp, cooked eggs, snap peas, and some other vegetables. In Tokyo, chirashi sushi is sushi rice topped with larger pieces of raw fish, which is the style often enjoyed at sushi restaurants in the U.S.
I like them both. Just like Thanksgiving stuffing, you can put ingredients you like and have fun with it. Every home and restaurant has their unique version of a chirashi sushi bowl that showcases the regional and seasonal ingredients. Today, I am making Tokyo-style chirashi sushi!
Perfect chirashi sushi starts with perfect sushi rice. The recipe is so simple. All you need to do is to make perfect sushi rice and get some fresh fish (or avocado and eggs if you want to make this vegetarian). So I put together the "how to make perfect sushi rice" here!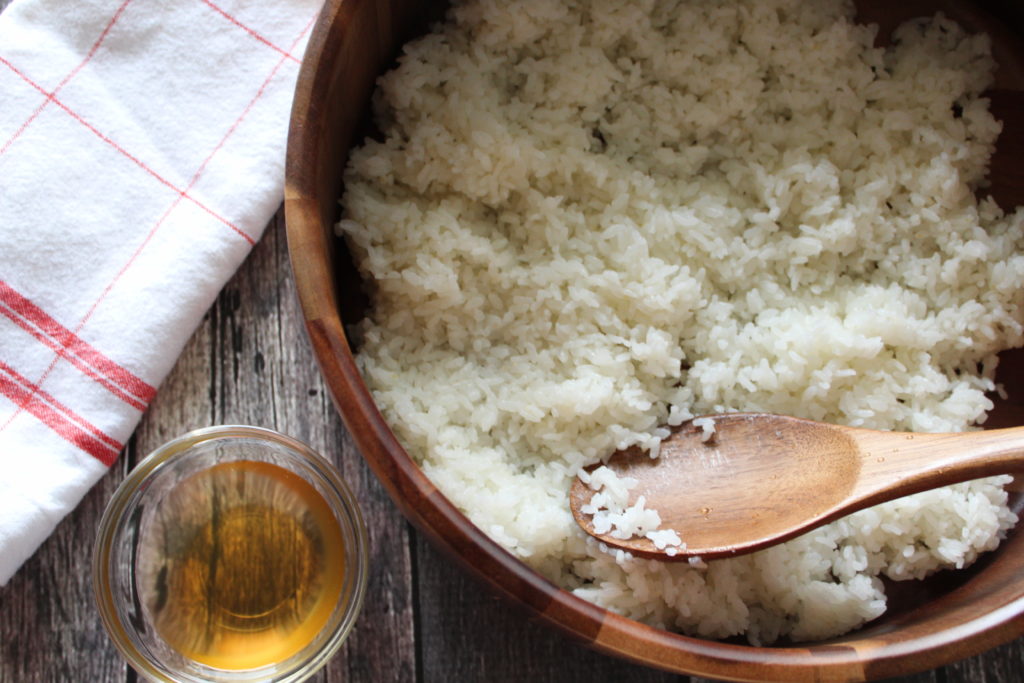 Close Your Eyes and Imagine You are Eating This Right Now
The sushi rice is slightly sweet and vinegary. The texture of the rice is light. It also has a delicate aroma. The fresh salmon is buttery, and the fresh scallop is mild and sweet. Sushi rice and fresh fish always make your bite just perfect.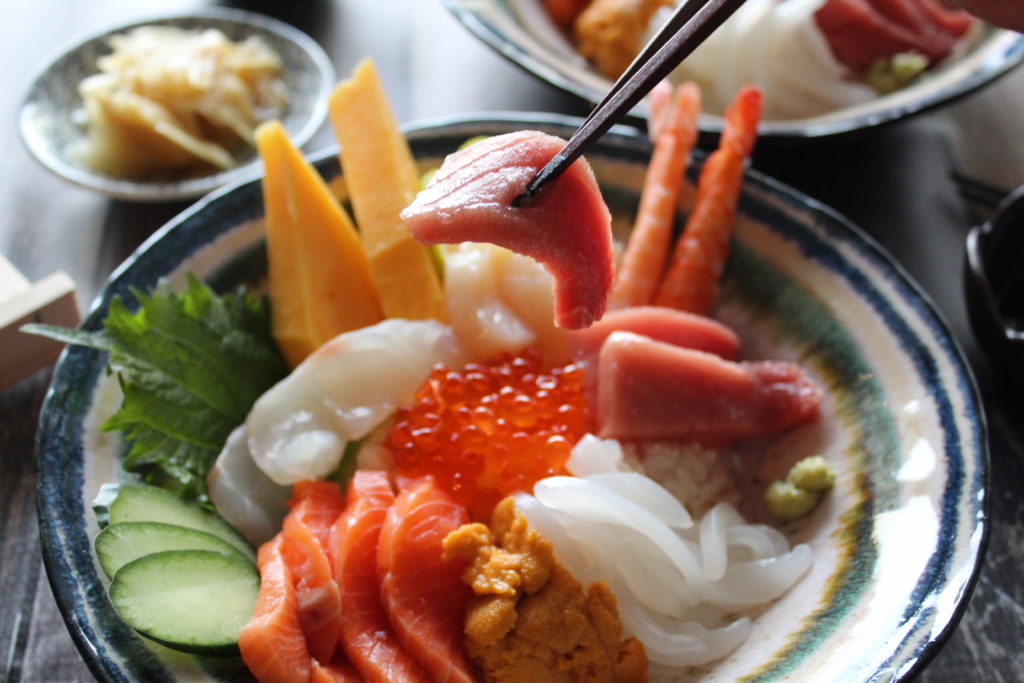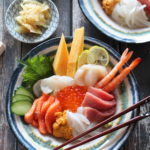 Chirashi Sushi
Chirashi sushi is super simple to make and perfectly healthy, yet stunningly beautiful.
Get creative with your toppings! If you prefer non-raw options, cooked shrimp and eel are perfect. For vegetarian peeps, cooked eggs, mushroom, avocado, and edamame will make this chirashi filling and nutritious.
Course:
Main Course, Rice
Ingredients
Toppings
3

oz

sashimi graded sliced tuna

3

oz

sashimi graded sliced salmon

3

oz

sashimi graded sliced scallop

2

oz

inure (salmon roe)

2

oz

shrimp

2

oz

sea urchin
Optional Garnish
Cucumber

Shiso leaves

Wasabi

Ginger
Instructions
Using a sharp knife, slice the fish against the grain into thin slices. Also slice cucumber into very thin slices.

Place the prepared sushi rice on the bottom of the service bowl or plate. Place sliced fish with thinly sliced cucumber, shiso leave, wasabi, ginger and other garnish. Enjoy with a side of soy sauce.
Recipe Notes
For the perfect sushi rice, check out my recipe here! 
Did you make this? Share your chirashi sushi bowl on Instagram and tag with #HungryRis!
Let me know if you have any questions and comments about the recipe!